"Ask Amelia" takes off on True North digital platforms
By Krista Sinaisky | November 22, 2018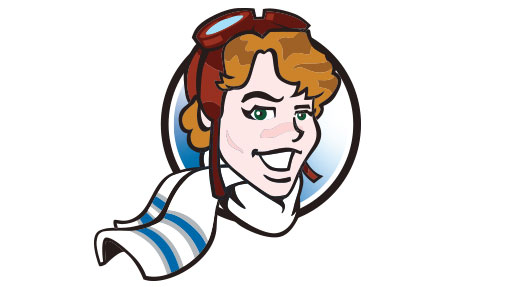 Joint partnership launches a virtual guest services platform to enhance patron experience
Winnipeg Jets and Manitoba Moose fans and patrons of Bell MTS Place events now have a new virtual guest assistant to help answer any questions they may have to augment their experience before, during or after True North Sports + Entertainment events. "Ask Amelia" is live on WinnipegJets.com, MooseHockey.com, BellMTSPlace.ca and in the Winnipeg Jets Mobile App, and will be coming soon to the Jets and Bell MTS Place Facebook Messenger pages.
Inspired by aviation pioneer Amelia Earhart, True North's Ask Amelia will navigate patron inquiries in real time, on a number of topics related to the Jets and Moose, as well as to non-hockey event experiences at Bell MTS Place, ranging from ticketing and parking to services and amenities.
"The ability to instantly connect with and be responsive to our guests 24/7 is the next step for True North in enhancing guests' experiences with our teams as well as at our events and venues," said Andrew Wilkinson, Director of Digital for True North. "With a full calendar of events and growing information about our teams and Bell MTS Place, Ask Amelia provides a single point of contact that makes it easy and convenient for fans and patrons to engage with the Jets, Moose and Bell MTS Place, as well as to receive timely and consistent information."
As Amelia Earhart once said, preparation is two thirds of every venture, so be prepared for your next event at Bell MTS Place and Ask Amelia. Want to know what and where to eat at Bell MTS Place, how to buy tickets to hockey games or concerts or where to find Jets Gear locations across Winnipeg? Fans can simply click on the "Chat with us" pop-up in the bottom right-hand corner of the websites and within the Jets App menu to get to know True North's confident and capable Amelia.
Amelia's artificial conversation interface is a development of True North and Satisfi Labs, a leader in providing artificial intelligence platforms across the sports, retail and entertainment industries.
"We are excited for fans and patrons of Bell MTS Place to begin interacting with 'Ask Amelia'," said Courtney Jeffries, Senior Vice President of Sports, Entertainment and Tourism for Satisfi Labs. "Fan engagement is so important and we have created this platform so each guest journey at Bell MTS Place is seamless. No matter where you are in the venue, the virtual guest assistant will be able to provide you the custom, personalized answers you need based on your location."
About True North Sports + Entertainment
True North Sports + Entertainment is Manitoba's premier sports and entertainment company. True North owns and operates Bell MTS Place, the Winnipeg Jets (NHL), the Manitoba Moose (AHL), Bell MTS Iceplex, Burton Cummings Theatre, True North Square and the True North Youth Foundation, the charitable arm of True North and the Winnipeg Jets.
About Satisfi Labs
Satisfi Labs is a conversational AI platform for retailers, sports venues, attractions, and live events. Their answer engine powers chatbots, voice experiences, messaging apps and website forums to provide an answer to all customer questions in real time. As the foremost AI leader in sports and live entertainment, Satsifi Labs is currently working with over 50 MLB, NFL, NHL, NBA and MSL teams. The company has seen over one million unique users across their live event platforms, raising the bar for the customer service experience at sporting events.
‹ Main News