Winnipeg Whiteout Street Party Expanding
By TNSE Staff | April 12, 2018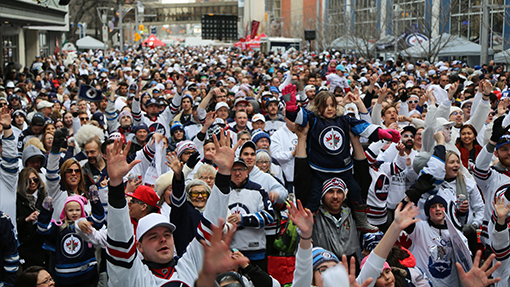 Following the success of its inaugural Winnipeg Whiteout Street Party, Economic Development Winnipeg announced an expansion of the Street Party venue southward on Donald Street, one block further to St. Mary Avenue.
This expansion will include an alcohol-free zone at Millennium Library Park, where young families can watch the game live in a more relaxed setting.
"Our first event exceeded our expectations," said Dayna Spiring, President and CEO of Economic Development Winnipeg. "After the success of Wednesday night's Street Party, we wanted to build on that momentum. Winnipeg showed well. This expanded space means we can welcome even more people of all ages."
One additional screen will now be on Donald, south of Graham, and an additional screen will be set up in the Millennium Library park, bringing the total number of viewing screens at the Street Party to four. The library park area is intended for family viewing and will be an alcohol-free area. Economic Development Winnipeg, alongside True North Sports + Entertainment, will also be expanding the vendors onsite.
The first Winnipeg Whiteout Street Party saw over 5,000 Winnipeg Jets fans come together on Donald Street, nearly filling the capacity of the original venue.
"The street party is an example of our community coming together to celebrate our city and the Winnipeg Jets in the playoffs," said Kevin Donnelly, Senior Vice-President of Venues and Entertainment for True North Sports + Entertainment. "While we're pleased with the outcome of the game one Street Party, we recognize and are fully committed to making the game two party even better based on feedback from our partners and from fans who attended the event."
Game Two of the Jets-Wild series takes place April 13. The game starts at 6:30 p.m., and the Winnipeg Whiteout Street Party will begin at 4:30 p.m. and continue for an hour after the end of the game.
Fans with tickets for the game are welcome to take in the excitement of the Street Party before heading into Bell MTS Place, however, no re-entry remains in effect at Bell MTS Place. Fans will not be able to move between the venue and the Street Party.
As a result of the street closure, fans should note that the Donald Street entrance to and exit from the Millennium Library Parkade will not be accessible during the closure. Fans wishing to park in that parkade must use the Smith Street entrance and exit.
Fans taking transit to and from the games should note that Winnipeg Transit buses will be rerouted off of Graham Avenue from Carlton Street to Smith Street on Friday, April 13 beginning at 5:30 p.m. Bus Stops along Graham Avenue eastbound between Hargrave Street and Smith Street will be temporarily relocated to northbound Smith Street at Graham Avenue. Bus stops along westbound Graham Avenue between Smith Street and Edmonton Street will be temporarily relocated to St. Mary Avenue at Donald Street and to Edmonton Street at Graham Avenue. Buses will return to their regular routes at 11:30 PM.
For more information on the Winnipeg Whiteout Street Party, please visit Economic Development Winnipeg.
‹ Main News