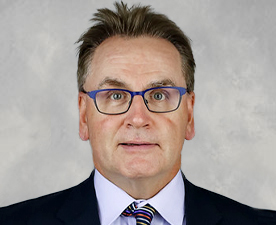 Craig Heisinger
Sr. Vice President & Director, Hockey Ops/Asst. General Manager
Craig Heisinger has held the role of Sr. Vice-President & Director, Hockey Operations/Assistant General Manager with the Winnipeg Jets since the team returned to Winnipeg in 2011. In his role, Heisinger also serves as the General Manager of the Manitoba Moose, the American Hockey League affiliate of the Winnipeg Jets.
Heisinger joined the Jets organization after working with the Manitoba Moose in different capacities throughout the team's initial 15-year existence in both the International Hockey League and American Hockey League. Most notably, he served as Manitoba's General Manager for nine seasons and reached the Calder Cup Playoffs in eight of those years, including a berth in the Calder Cup Final in 2009.
Heisinger began his tenure with the Manitoba Moose as the team's Equipment Manager in 1996. "Zinger" then transitioned to a managerial position when he became Assistant General Manager of the hockey club in 1999. Three years later, Heisinger was appointed General Manager of the Moose on July 15th, 2002, succeeding Randy Carlyle. Zinger retained that position until the end of the 2010-11 season. During that time, Heisinger was named the winner of the James C. Hendy Memorial Award as the outstanding executive in the American Hockey League following the team's most successful season in 2008-09. That season, the Moose finished first overall in the AHL and reached the Calder Cup Finals.
Heisinger received his start in hockey as the Equipment Manager of the Fort Garry Blues of the Manitoba Junior Hockey League during the 1978-79 season. In 1988, after four years with the Brandon Wheat Kings, he represented Canada as the Trainer for the Gold Medal winning World Junior Team in Moscow. After the championships, Heisinger joined the Winnipeg Jets as Assistant Equipment Manager. In 1990, he became the Jets' Sr. Equipment Manager and was with the team until their move to Phoenix in 1996. In 1997 he worked with the Gold Medal winning Canadian Team at the World Championships, and in 1998 he was selected as the Equipment Manager for the Canadian Olympic Team in Nagano, Japan.
Heisinger and his wife Vickie, have four sons, Jake, Mack, Tucker, and Zachery.
« Jim Ludlow
Kevin Donnelly »