17th Annual Flatlander's Beer Festival in support of the True North Youth Foundation
By TN Staff | June 6, 2019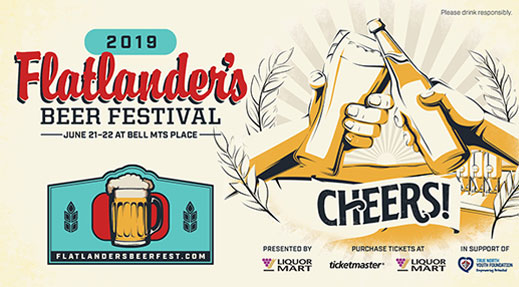 Manitoba's beer lovers will unite at the 17th annual Flatlander's Beer Festival presented by Manitoba Liquor Marts on June 21 and 22 at Bell MTS Place in support of the True North Youth Foundation (TNYF).
The Festival continues to grow, featuring more than 375 beers and ciders from across the globe – up from the 300 offered last year. Flatlander's has added 10 more tasting booths to the floor, bringing the total to 100, and will feature more than 100 exclusive new products for patrons to sample.
With the June 21 VIP Tasting event already sold out, three time slots are available for general tastings:
Friday, June 21 Tasting – 7-10 p.m.
Saturday, June 22 Tasting – 1-4 p.m.
Saturday, June 22 Tasting – 7-10 p.m.
Patrons will be able to take some of their favourite beer home thanks to the on-site Liquor Mart Store. The store will include products exclusive to the Beer Festival, and will provide additional convenience for participants by delivering their orders to their local Liquor Mart.
Local food trucks will also be on the event floor at Bell MTS Place, offering an array of food options to match the variety of beer on hand.
Thanks to the continued support of Manitobans, last year's Flatlander's Beer Festival raised over $190,000 for the TNYF, which has been reinvested in the youth of our community.
Tickets for this year's Festival start at $42.95 (plus tax and applicable fees) and include all samples, a program, and keepsake sampling cup. Tickets are available at participating Winnipeg Liquor Mart locations and through Ticketmaster.
For more information on the Flatlander's Beer Festival, visit flatlandersbeerfest.com.
The True North Youth Foundation (TNYF) is the charitable entity of True North Sports + Entertainment and of the Winnipeg Jets Hockey Club. TNYF is relentless in pursuing its vision of empowering potential in youth by administering meaningful programs that enrich physical, social, mental and emotion aspects of a child's life. The core programs of the TNYF include the Winnipeg Jets Hockey Academy, Camp Manitou, and Project 11 – a mental wellness program for students in Grades K-8.
For more information on the programs of the TNYF, please visit tnyf.ca, campmanitou.mb.ca, projecteleven.ca or watch this video: https://www.nhl.com/jets/video/true-north-youth-foundation/t-277443454/c-46373503.
‹ Main News