A bright idea
By Krista Sinaisky | June 9, 2019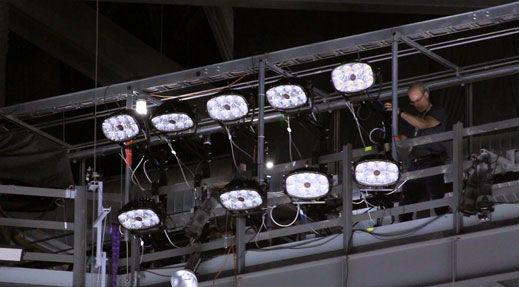 A bright new investment promises to bring new light to Bell MTS Place.
New overhead light fixtures have been installed in the arena offering better colour, light quality and tone to hockey and events at Bell MTS place, as well as having the added benefit of utility conservation.
The new 400W Eaton Ephesus LED lights each have a lifespan of over 10 years and produce less heat, allowing better temperature control of the ice surface and the building.
The old lights were primarily used for sporting events but with the installation of 180 LED lights, operators will now have the ability to dim, change colour and lighting styles and manipulate light to enhance every event hosted at Bell MTS Place.
According to Ed Meichsner, the VP of Facilities Operations at Bell MTS Place, it's the latest technology in LED sport lighting.
"They offer a strobing effect, we can narrow and widen the beam and they offer a huge variety of colours," he says.
The new lights not only enhance the experience inside the building for attendees, but they also create much crisper colours and more definition for HD broadcasts for the viewers at home.
"It's literally night and day from the old lights. Not only are these lights better but the control we now have over every single light is astounding."
Meichsner and his team can now manipulate a single light or a group of lights to reach the desired lighting levels at the click of a button.
"We're confident the hockey players will appreciate them as much as we do and we're very excited for the next season of hockey here at Bell MTS Place."
‹ Main News