A message from Winnipeg Jets Executive Chairman and Governor Mark Chipman
By TN Staff | May 3, 2022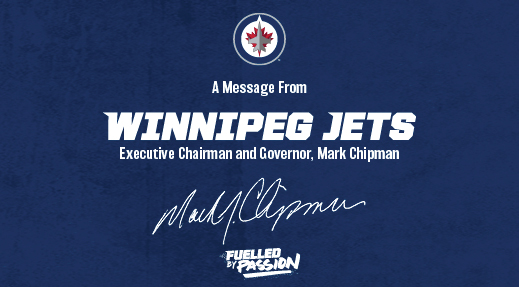 The mission we established for True North Sports + Entertainment many years ago challenges us to provide a superior guest experience in our venues, to care for our employees and to make a meaningful and consistent contribution to our community. Fundamentally, it also establishes the responsibility of developing championship calibre hockey teams (TNSE.com/our-company/vision-mission/). So that these words wouldn't become meaningless platitudes that eventually lose significance, we also established clear standards by which we measure ourselves. In terms of our requirement to develop "championship calibre teams", the standard is earning a position in the Stanley Cup Playoffs.
By this measure, and for the first time in four years, we did not achieve our objectives this season. As you have read and heard in recent days, a deep sense of disappointment has been expressed by our management team, our coaches, players, and our entire organization. Honestly, it is difficult to explain the weight of the responsibility I personally feel for our lack of success this year and that's because I know how much the Winnipeg Jets mean to you and to this community.
Beyond the results on the ice, it has been a difficult year for our community of fans. The challenges of the pandemic, postponed games, reduced capacity, refunds and credits, an unexpected coaching change, an extraordinarily harsh and extended winter, processing world events that have close ties to Manitobans, and other adversities during the season have collectively and uniquely challenged us as a team and as a community.
While disappointed with how the season unfolded and humbled by the adversity our community has endured, I am reminded that our organization was borne out of the devastating departure of the NHL and has grown and matured through a great deal of adversity and challenge over the past 26 years. We did that by consistently holding ourselves accountable to our core values, including Continuous Improvement, and I am comforted to know that no one in our group understands that better than our hockey operations team, led by General Manager Kevin Cheveldayoff. Be assured that Kevin and his team are determined to make the necessary adjustments to what we truly believe can be a championship team. In addition, know that we will always remain committed to improving the fan experience at all True North venues. As an ownership group, and notwithstanding the financial impact the pandemic has had, know that our commitment to invest in the team and our facilities remains stronger than ever.
The conclusion of our 11th NHL season and the writing of this letter has allowed me to reflect not only on the past 82 games but also the past two-plus years. As I did so, I was struck by an overwhelming sense of gratitude. To begin with, I am so very grateful for my family, my partner David Thomson and our lenders who have demonstrated unwavering commitment during the many phases of the pandemic. I am thankful to our corporate and broadcast partners who continue to invest in and see value in aligning with our brand. I appreciate the opportunity to be part of a community of leaders, employees, and volunteers who, beyond running the business of sports and entertainment, allow us on an annual basis to offer Project 11 to 70,000 students, give 4,000 children the opportunity to attend Camp Manitou, and provide 700 student athletes with robust programming that teaches life lessons beyond the rink through the Winnipeg Jets Hockey Academy.
Finally, I am humbled by and deeply grateful for the community and passion of Winnipeg Jets fans who invest their emotion, time, and money with our team. It's the same passion that set me on this journey 26 years ago this month, and which propels our entire organization every day. And it's a passion that causes us to look forward with much optimism for the future, beginning with the Manitoba Moose's participation in the Calder Cup playoffs later this week.
On behalf of everyone at True North, thank you for your ongoing investment and for the confidence you have placed in us over the years.
Respectfully,

Mark Chipman, Executive Chairman
True North Sports + Entertainment / Winnipeg Jets Hockey Club
‹ Main News