"All Systems Go" for True North downtown
By TN Staff | October 1, 2021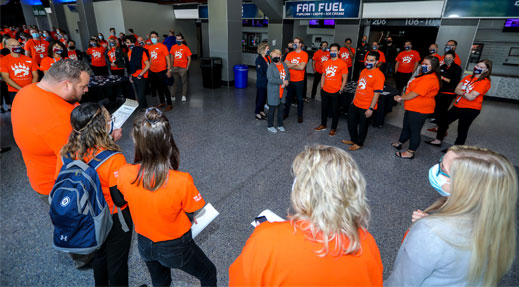 True North Sports + Entertainment is in the business of public assembly at our venues – most notably Canada Life Centre, home of the Winnipeg Jets and the Manitoba Moose. The sports and entertainment industry was one of the first industries to shut down operations entirely when the pandemic struck in March 2020, and now, over 18 months later, it's one of the last to resume operations fully. To get ready for the 2021-22 NHL and AHL seasons and the exciting schedule of upcoming concerts and events at the arena and the Burton Cummings Theatre, True North had to first focus on the gathering of a smaller group – its own employees.
Employees returned to True North's venues at various stages throughout the pandemic, including in summer 2020, and to support the 2020-21 NHL and AHL home seasons this past winter through summer (as well as acknowledging those employees with essential roles who remained on-site throughout the entire pandemic). After more than 16 months, True North welcomed back its entire full-time workforce to its downtown offices this past August.
"We could not ask 15,000 people to gather at Canada Life Centre for hockey and events if we were not also back working together," said Christina Litz, Chief Brand & Commercial Officer with True North Sports + Entertainment.
While the resumption of cultural, sporting and entertainment events downtown – including events at Canada Life Centre and the Burton Cummings Theatre – are essential to the health of the downtown core, it will take more than these events to fully rebuild the city centre after the negative economic impacts of the pandemic.
"True North is a proud downtown neighbour and has always been committed to the growth and development of downtown," said Litz. "It has been amazing to see increased activity on the streets and in downtown restaurants and patios for our first two Jets pre-season games, but our downtown businesses cannot survive on event traffic alone."
According to a recent Downtown Winnipeg BIZ report on the impacts of the pandemic to downtown, the cancellation of more than 2,000 events downtown over the course of the pandemic has resulted in an estimated $59 million in decreased downtown expenditures. Overall, downtown storefront businesses have experienced an estimated $139 million in total revenue losses – due in part to the loss of 70,000 downtown workers over the pandemic.
"We encourage our neighbouring offices to consider the ripple effects of their return, and if they can safely bring their workforces back downtown, we will all benefit," said Litz.
The return of True North's full-time employees has been good for overall organizational culture and has allowed employees to reconnect both professionally and socially, but the benefits are not limited to True North alone. Bringing 185 people downtown has positive impacts on transit ridership, parking and local restaurants, stores and businesses.
"Our downtown is vibrant because of the people here. Through the return of events, Jets games, and now with more folks back in the office, we're seeing that vibrancy return," says Pamela Hardman, Director of Marketing, Engagement and Communications for the Downtown Winnipeg BIZ. "We're glad to welcome True North's employees back to work downtown and with more exciting events and initiatives on the horizon, we look forward to welcoming more downtown workers through the fall and winter."
For more information on the concerts and events resuming at Canada Life Centre and the Burton Cummings Theatre, please visit our website CanadaLifeCentre.ca and BurtonCummingsTheatre.ca.
Pictured: True North's employees take part in an ice breaker activity as part of their annual beginning of season gathering.
‹ Main News