At True North, everything goes back to the Vision, Mission & Values
By TN Staff | March 10, 2022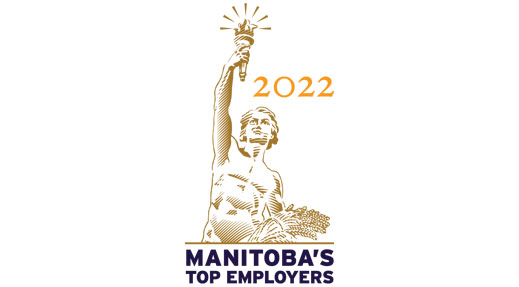 For a lifelong Winnipegger, getting a job with True North Sports + Entertainment was a thrill. "This was the pre-eminent sports and entertainment organization, and I was drawn to the excitement of being part of that," says Krista Sinaisky, director of corporate communications. "Then you get here and see there's so much more behind it – strong organizational values and a sincere desire to positively impact the community — and you really feel proud to be a part of that."
With 10 entities – including Canada Life Centre, the Winnipeg Jets NHL franchise, Bell MTS Iceplex and the Burton Cummings Theatre — under its umbrella, six different work locations and six ice surfaces, True North is a dynamic, fast-moving environment.
So shutting everything down when the COVID-19 pandemic hit kicked off one of the toughest times the company has ever had to face. "2021 was a tough year layered with multiple challenges," president and COO John Olfert says. "However, despite the challenges, 2021 was a year that demonstrated the resilience and the results of what a group of people who share a common purpose can do – navigate COVID obstacles, safely resume events and continue to make a meaningful and consistent contribution to our community."
What helped to guide the organization through, says Dawn Haus, vice-president of human resources, was its vision, mission and values. "True North takes these very seriously," she says. "It goes beyond being just words on paper. Depending on the circumstance, our values of team, trust and respect, do the right thing, and continuous improvement guide us in our everyday, and that comes from the top down."
Because the values are frequently communicated and reiterated, they become part of everything True North does. "There's a certain lexicon that comes with it too," says Sinaisky. "There's a sense of connection when you hear people talking about it."
The organization is intent on sharing stories internally about successes, achievements and initiatives. It's one of the ways for people who are working in True North's various divisions to stay connected.
"You hear about the community impact – whether it's how the teams are uniting the community, or how kids are supported through the work of the True North Youth Foundation — you can see how you're a part of the bigger picture and how we are all connected," Sinaisky adds.
Communication is a huge part of what brings the True North team together. A regular Bulletin keeps everyone informed of developments in the ever-changing environment. And then, three times a year a bigger publication focuses on more in-depth stories.
"We share stories that really emphasize our culture," Sinaisky explains. "We get to know our co-workers better, and there are behind-the-scenes stories so people can learn more about parts of the organization that they're not directly involved with."
The focus on employee well-being and safety has been heightened during the pandemic with great care going into plans and processes for employees' return to on-site work, whether that be to office spaces or to run live hockey games at Canada Life Centre.
Care for employees has also meant keeping the True North team together and keeping a line of sight beyond the pandemic.
"The priority of keeping our organization intact through the adversity of the pandemic has supported a strong team to begin resumption of regular operations, including the 2021-22 hockey season," says Olfert.
What's been missing during the pandemic are all the opportunities to celebrate together, through service award presentations, holiday family skates, playoff viewing parties and more. "We have wholeheartedly missed those events," says Haus, "and we cannot wait to do them again."
Written by Nora Underwood
‹ Main News