Bell MTS Iceplex Report to the Community
By TNSE Staff | January 19, 2021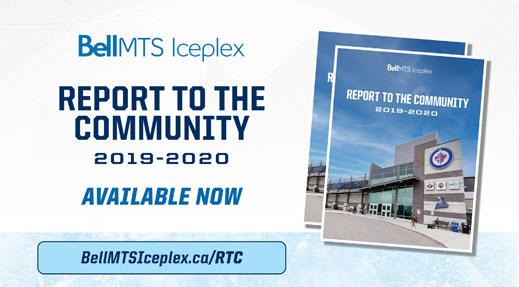 Visit BellMTSIceplex.ca/RTC for the full 2019-20 Bell MTS Iceplex Report to the Community.
In the midst of an unusual season at Bell MTS Iceplex, it is important to look back at the year that was. The 2019-20 season was unlike any other with the hockey world coming to a complete standstill on March 12, 2020.
Though the pandemic abruptly ended the season for many teams, the Iceplex doesn't measure success by playoff and end of season results. Our focus remains on development, teamwork, self-confidence and on fostering long-lasting friendships, both on and off the ice. We're happy that Bell MTS Iceplex has played a role in developing the many players who have walked through our doors during the season.
We remain grateful to our community for their diligence, which allowed the Iceplex to reopen at the start of June, and for their loyalty in returning to our facility when it was safe to do so. Our priority remains providing a safe venue for hockey and a superior guest experience. This year, that has meant rethinking all aspects of visiting our facility and implementing enhanced cleaning and distancing measures. Along with the dedication of our Jets Hockey Development coaches to providing quality programming, a shared commitment to safety from our guests and our program and operations team led to the busiest summer since the Iceplex opened in 2010.
We look forward to the upcoming season and to seeing hockey excel amid a new normal. This season will bring new challenges, but the sport will still provide the same skill and character development opportunities as well as memories that will last a lifetime. Bell MTS Iceplex remains ready to adapt to evolving best practices and provincial guidelines in order to keep our players engaged, on the ice and in the gym.
On behalf of Bell MTS Iceplex, we thank you for your continued support. We are truly inspired and excited by the passion our community has for the game of hockey.

David Sattler
General Manager, Bell MTS Iceplex
‹ Main News