Bell MTS Place and Burton Cummings Theatre earn spots on Pollstar's 2019 Top 200 World Ticket Sales rankings
By Jason Friesen | February 3, 2020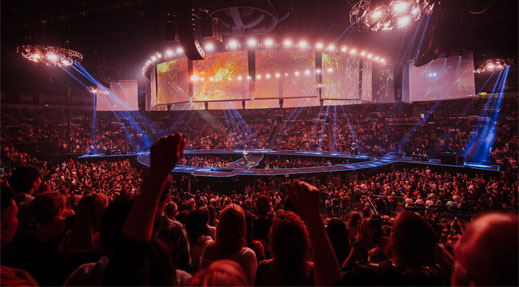 Top charts are a big thing in the event industry, which makes the annual Top 200 World Ticket Sales rankings for arenas and theatres done by Pollstar – a leading magazine for promoters and events in the concert industry – a pretty big deal. Winnipeg's Bell MTS Place and Burton Cummings Theatre ranked well on the lists with Bell MTS Place ranking 74th on the worldwide arena list and the Burton Cummings Theatre landed at 143rd on the theatre list for the period of November 2018 to November 2019. When you consider only North American theatres and arenas, BMP and the Burt ranked an impressive 47th and 109th respectively.
"It's our yard stick," said Kevin Donnelly, Senior Vice President of Venues & Entertainment at True North Sports and Entertainment of the Pollstar rankings. "It's our report card for the year's efforts. It's a validation for us to know the results of our work."
That work, and the efforts of True North's events and venues team have resulted in more than just favourable standings; it's resulted in a stream of some of music's biggest names making stops at the venues in 2019. For the Burton Cummings Theatre, that included the likes of Neil Young, Alessia Cara, Bobby McFerrin, and Blue Rodeo, while Elton John, Justin Timberlake, Shawn Mendes, and Carrie Underwood are just a few of the stars that graced the Bell MTS Place stage in the last year.
"From a fan perspective, we've been incredibly fortunate to have the rabid fans we have for hockey, and likewise for concerts," said Donnelly. "When we have a show come, the crowds really appreciate that we've got Fleetwood Mac or Elton John coming to a market that really is geographically isolated. We know we're not in New York or in LA. It's special when Elton John comes to Winnipeg, or when Alexisonfire comes to Winnipeg, and the crowd really responds favourably.
"We're developing a reputation as a good place for the tours to stop financially, and they get rewarded by a very attentive audience."
True North Sports + Entertainment continues to commit not only to bringing top shows through Winnipeg, but to invest in its venues, and enhance the guest experience at concerts and venues.
This summer, the Burton Cummings Theatre introduced the Burt Backyard, an area directly in front of the theatre that serves as a gathering space during select events throughout the summer where guests can meet with friends, ticket-holding or not, for food, beverages, and entertainment.
Bell MTS Place saw upgrades as well this summer, with the renovation of a portion of the suite level as well as the skywalk that runs along the west and south sides of the building. New flooring, an LED lighting upgrade and a new colour scheme now align the skywalk with the fit and finish of the Bell MTS Place concourses, which were updated in the summer of 2017.
‹ Main News