Bell MTS Place Hargrave Street skywalk now open
By Krista Sinaisky | September 16, 2019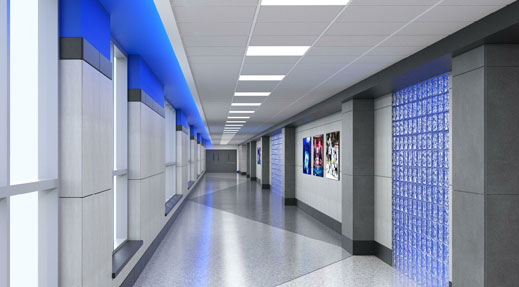 The Bell MTS Place skywalk along Hargrave Street, including the Cityplace bridge, is now open following a summer of renovation work. The open skywalk now fully reconnects Portage Place and Cityplace as part of the downtown skywalk system.
Features of the new space include durable Reazzo flooring and new LED lighting that brightens the space. Work will continue over the coming weeks to bring the finishing touches to completion.
As part of the renovation, a new Premium Services Desk located at the southwest entrance of the Scotiabank Premium Suite Concourse will provide customer service during event entry, primarily supporting patrons requiring assistance with mobile ticketing. Patrons requiring in-person ticketing service can visit the Bell MTS Place Box Office at the corner of Portage and Donald. Box office hours can be found at BellMTSPlace.ca/FANGUIDE.
The skywalk renovations are part of True North's multi-year venue improvement plan and represent the ongoing commitment to reinvestment in the company's venues and facilities.
True North Sports + Entertainment is pleased to once again provide full and convenient access between Portage Place and Cityplace and for all Bell MTS Place events and thanks the community for their patience over the summer in finding alternate outside routes while the skywalk was fully closed.
‹ Main News