BMTSP ranks 20th among North American arena experiences
By Krista Sinaisky | February 21, 2018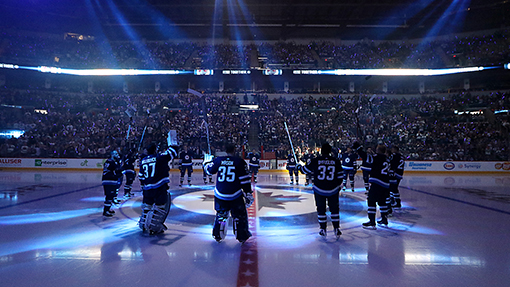 Bell MTS Place fans are mighty and the venue itself offers all the amenities that hockey enthusiasts and event patrons could want, which has officially made it one of the best places to watch live sports and entertainment in all of North America. Home of the Winnipeg Jets and Manitoba Moose, Bell MTS Place ranked 20th among the top 100 sports and entertainment arenas in North America, also taking the top Canadian spot, in a ranking recently released by Stadium Journey Magazine.
"It is exciting to be recognized among the best of the best and have Bell MTS Place showcased on the world stage of first-class venues," said Kevin Donnelly, True North Sports + Entertainment's Senior Vice President of Venues & Entertainment. "As much as we have invested in our venue with recent renovations, it is our team that helps to create a superior experience for fans, and the spirit and energy of fans and patrons themselves that create an incredible atmosphere and add to the excitement of Bell MTS Place."
In grading 100 arenas and stadiums in North America, Stadium Journey took into account the venue's overall atmosphere, food and beverage options, return on investment, fans, accessibility, and the neighbourhood in which it is situated. Bell MTS Place scored on extras like a well-thought out venue, excellent vantage points, the new loge seating, superior fans, and even the production values of the pre-game show, including the informative and entertaining videos featured on the centre-hung.
View the full Stadium Journey rankings HERE.
Bell MTS Place – The NHL's number one arena
Earlier this season Bell MTS Place was recognized as the number one arena – of all 31 NHL markets – in which to experience an NHL game. A buzzing atmosphere, intimate and interactive experience, and clear sightlines were highlighted as contributing to an enhanced fan experience.
True North has been reinvesting in Bell MTS Place since 2014 when the multi-year venue improvement plan TN2020 was introduced to bring True North's vision of a tier 1 NHL level patron experience to reality. Over the past four years comprehensive changes have been made across the venue that have brought fans more comfort, more choice, and more excitement. From new ergonomic seating, improved sightlines, and enhanced digital technology, to this season's complete overhaul of both the 100 and 300 level concourses that introduced the Jets brand theme and colours and a wider variety of food and beverage options, Bell MTS Place has more than ever to offer to patrons.
"For True North, the fan experience begins as soon as patrons enter Bell MTS Place and our entire event team from security, to guest services, to production, is committed to ensuring that every interaction is meeting and exceeding expectations," said Donnelly.
‹ Main News