Bell MTS Place security and access enhancements for 2019-20
By Krista Sinaisky | September 17, 2019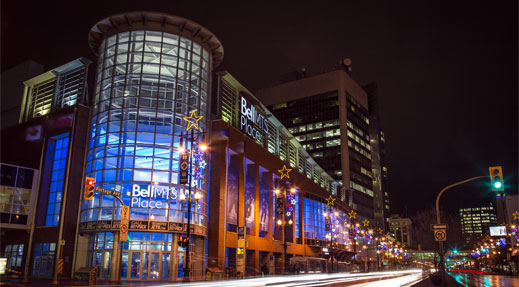 As part of True North Sports + Entertainment's commitment to providing a safe and enjoyable experience in our venues, some security and access changes have been made for the 2019-20 season.
Bag Size Policy
A new policy limiting the size of bag/purse that can be brought into the seating area at Bell MTS Place (and all True North's venues) was introduced over the summer. For the safety and expedited entry of our guests, patrons are asked to pack lightly and restrict the size of bag/purse being brought into the venue to the maximum allowable size of 14"x14"x6". Oversized bags can be returned to your vehicle or stored in Coat Check ($3 cash-only fee). Certain exceptions will be made for medical reasons and in other special circumstances, as warranted and all oversized bags will be subject to a thorough search, either by hand or X-ray machine, and will be tagged. For more information on True North's Bag Policy, please visit BellMTSPlace/FANGUIDE or watch this All Access video.
New Somerset Access
Patrons of Jets games and all 300-level events now have the option of entering Bell MTS Place through the Somerset Building. This additional access point will provide convenience as well as a warm, indoor entry option via the Radisson Hotel.
Bell MTS Place skywalk enhancements
The Bell MTS Place skywalk connecting Portage Place and Cityplace along Hargrave St. reopened Sept. 16 following a summer of renovation work. Guests will notice a look that aligns with the décor of Bell MTS Place including new LED lighting and Reazzo flooring. As part of the renovations, guests will notice a new security hub in the Cityplace bridge that will offer a consistent security presence during skywalk hours including during Bell MTS Place events. The area will also serve as a convenient location for pick-up of lost and found items for patrons who have made advance arrangements by calling 204.926.5899.
New Premium Services Desk
A Premium Services Desk has been added at the southwest entrance of the Scotiabank Premium Suite Concourse. This location will service Premium Suite Holders as well as provide customer service during event entry, including supporting guests requiring assistance with mobile ticketing.
Elevator safety
Building on True North's commitment to safety and security, all public elevators are now equipped with cameras which allows security to more closely monitor and more quickly respond to any issues.
Bell MTS Place Box Office hours
A reminder that in-person ticket services are available at the Bell MTS Place Box Office which is open Monday through Friday 10 a.m.-4 p.m., as well as two hours prior to doors on event days. For more information on Box Office hours, please visit BellMTSPlace/FANGUIDE.
‹ Main News