Creating more joy through giving
By Krista Sinaisky | March 12, 2018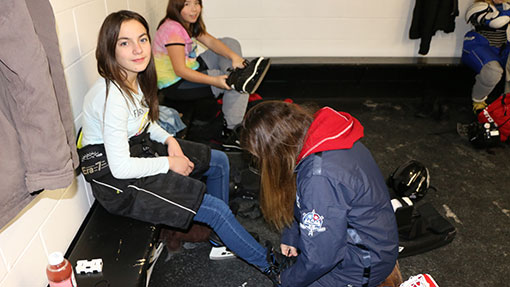 WJHA's Living Philanthropy Program creates win-win for the community.
Each Monday morning during the hockey season (October to May), a dozen employees from Price Industries head over to Gateway Recreation Centre, volunteering to help kids lace up their skates and coach them on ice, beginning a chain reaction that leads to happy and productive workers, empowered kids and, a brighter community.
"The more people that give of their time, the more people get joy from being givers," says Gerry Price, CEO of Price Industries, who eight years ago launched what has now become the Winnipeg Jets Hockey Academy (WJHA) Living Philanthropy Program.
Run by the True North Youth Foundation (TNYF), the WJHA is play-based program designed to increase school attendance and high school graduation rates, and instill life skills through the game of hockey.
Inspired by a speech that Mark Chipman, Chair of the TNYF Board, delivered in 2010 and deeply moved by the objectives of the WJHA, Price offered as much support as was needed from his company and the rest is history. Since the 2011–12 school year, Price employees have been consistently supporting the WJHA by providing employee volunteers to run weekly on-ice practices. They are now working with a group of Grades 6 and 7 students from Chief Peguis Junior High, whom they have watched grow with the program, first learning to skate, then gaining more confidence, enthusiasm, and motivation, not only for hockey but also for school.
"I've seen them before they joined this program and now that they're in it and the change is like night and day. There's a lilt in their step, they're successful at something and success breeds self-confidence, which breeds ambition, which breeds better marks in school, better attendance, and success in life," said Price.
More than coaching hockey, this approach builds relationships and fosters connections, allowing organizations to grow with their classes and provide consistent support and mentorship through their years in the WJHA until high school graduation.
Chief Peguis counsellor Jordon Yvon-Moreau can see the impact of the healthy relationships that his students have forged with their on-ice and bench coaches and how it has helped them to excel beyond the rink.
"I can't say enough good things about this program. It's one that really gets kids. They get what kids need. They get how kids can develop in positive ways," he said. "It's a hockey program, but it's a kid-building program even more so."
Including Price Industries, the TNYF is fortunate to have nine organizations that have adopted classes and that directly support 350 of the 750 students currently enrolled in the WJHA by running their weekly on-ice sessions for the 25-week WJHA season: Maple Leaf Construction, Birchwood Automotive Group, Skybridge, True North Sports + Entertainment, Princess Auto, Winnipeg Police Services, RBC, and New Flyer.
WJHA Director, Murray Cobb said that there are many schools and classes waiting to take part in the program.
"As the program grows we need more and more people involved," he said. "We really do need more companies to get involved and volunteer their time and hopefully have a great experience while they do it."
"Why not enrich your workforce by getting [your employees] engaged in giving," said Price. "There's just no downside, they'll come back to work charged up and they'll make up the lost time in a heartbeat because they're just so happy."
For more information on the Living Philanthropy Program, please visit tnyf.ca/adoptaclass.
To learn more about the WJHA, please visit tnyf.ca/wjha.
‹ Main News