Cree designer shares Indigenous culture through special Jets and Moose logos
By Jason Friesen | February 6, 2019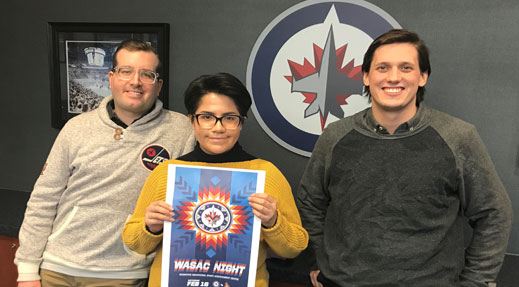 You can't talk about the history of Manitoba without talking about Indigenous people and you'd be hard-pressed to talk about the history of Manitoba without mentioning hockey. On Feb. 16 and 17, hockey and Indigenous culture will together be the talk of the town at the Winnipeg Jets WASAC (Winnipeg Aboriginal Sport Achievement Centre) Night, and the Manitoba Moose Follow Your Dreams Day, where True North's hockey teams will celebrate the Indigenous cultures of our city and province.
The centrepiece of the games will be the specially created logos for both the Jets and Moose that are inspired by Indigenous arts and culture. The logos are as unique as they are beautiful, yet it's the story behind them that truly shows the meaning of the celebratory games.
"We wanted to find a way of expressing the idea of this partnership with both the Winnipeg Jets and Manitoba Moose and the Indigenous community both locally in Manitoba and across Canada," said Josh Dudych, Director of Creative Content at True North. "It was really important to us to create some visual language that resonated with the Indigenous community. So, it very quickly became apparent that we had to enlist some help."
That help came in the form of Leticia Spence, a Cree, Red River College graphic design student who is also involved with WASAC, the organization True North has been collaborating with to make these games happen.
"Her wealth of knowledge on Indigenous culture and artwork and that visual language, as well as her experiences as a designer really provided us with a solid footing for the ability to create some logo and branding that resonated with the Indigenous community and lent everything an air of authenticity that we probably wouldn't have been able to achieve without her help," continued Dudych.
When Spence was offered the spot of collaborating on these logos, she jumped at it, knowing it was a way for her to give back to the Indigenous community and share her culture.
"For the Jets logo, because it's so geometric, I wanted to keep with that idea and create patterns that would complement it well," said Spence. "So immediately my brain went to beadwork."
Originally from Pimicikamak First Nation (Cross Lake), Spence drew on her own personal life for this aspect of the logo.
"A lot of my family does beading. That's been passed down from my auntie, and so when I was thinking about this design, I was thinking about my Auntie Betsy and the patterns she would make for our moccasins that she would give us every Christmas.
"I also wanted to keep in mind the medicine wheel because of the circle," Spence noted of the similarities to the Jets' circular logo. "I thought it would look really good to include that in a way that is modern and contemporary to reflect Indigenous culture which is constantly evolving."
With so many artistic styles to draw from, the Moose logo brings its own unique aspects of Indigenous art and culture to life.
"For the Moose logo, because it's an animal, and given the nature of the logo with the trees, I wanted to keep with that idea as well. So I took inspiration from one artist named Norval Morrisseau, who created the Woodland School of Art. This style uses a lot of organic lines and the idea of certain energies and how us humans or animals relate to the earth and sky."
Kevin Jorgensen, one of True North's graphic designers, worked closely with Spence on both of the logos and the branding around them, and was nothing short of impressed by her work.
"What I found interesting is that every little detail that went into the logo has a meaning, and together they make a story," noted Jorgensen. "We put a lot of trust in Leticia and had a lot of respect with her process and design work. She knocked it out of the park to begin with. The challenge is that we were incorporating new elements into our brand, but we still had to keep the integrity of the Jets brand and Moose brand. So, it was a unique challenge, and her solution to everything was beautiful."
Kevin Chief, one of the founders of WASAC, agrees on the beauty of the logos, saying that he was "blown away" when he saw them. He was just as blown away by the mentorship and the opportunity being provided.
"We can't tell young people that something is possible, we've got to be able to show them," said Chief. "And the project that we're doing is showing other Indigenous children and youth that through hard work and a willingness to learn and share that their work can be showcased on an incredible level, and that's what's happening here. It's absolutely amazing and the thought and the teachings that have gone into the work that Leticia has done – tying in her Cree culture, and then taking that and working with the incredible people at True North is just wonderful."
The idea of showing instead of telling is a big one for Chief. And he knows that the games and the logos will show all Manitobans that this is not just a celebration of Indigenous culture; it's a celebration of Manitoban and Canadian culture.
"You can't talk about the history of Canada without talking about relationships with Indigenous people, First Nation, Metis, and Inuit people. So, if you're a Canadian and you're a Manitoban, this is as much a part of your history as it is ours. But we can't tell people this is important, we have to show them. And one of the best ways to show it is to celebrate it. What we're doing is celebrating that collective history together, and it's critically important that we do that. And there is no better place to celebrate this than in the loudest barn in the National Hockey League."
‹ Main News