Developing as a Team
By TN Staff | December 4, 2019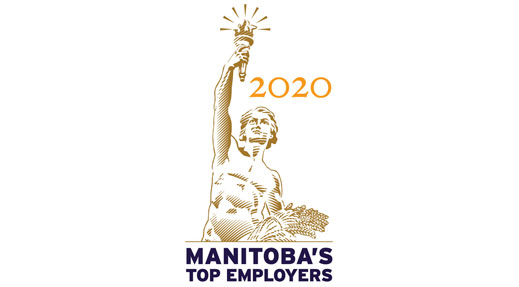 Development is a big part of the hockey business. Hockey players train daily to master their craft, and developing players from prospects to the Manitoba Moose, and then to the Winnipeg Jets is integral for success at True North Sports + Entertainment. While True North employees may not say that they go to "practice" or "get called up" like hockey players do, they still strive for continuous improvement, personally and collectively, each day at their workplaces.
That isn't just because continuous improvement is one of True North's organizational values, and they aren't just words to rally employees around. They're words that define how True North does business.
"True North has always strived to be a consistent source of pride in the community," said John Olfert, President & Chief Operating Officer. "Improvement plays into that goal. If we each continue to better ourselves, we will better our organization as a whole. Through that, we can start to make an impact in our community together."
Goal setting is of course a big part of improving, and with almost 270 full-time employees and 1,500 part-time employees, conveying to each of them how their roles are contributing to the bigger picture is integral. Communicating the larger organizational goals, and then challenging employees to identify how they can help to achieve those goals, has become a big part of True North's organizational strategy.
"We have an extremely diverse group of employees," noted Dawn Haus, Vice President of Human Resources. "We have several venues that our people work at, and they work in a variety of areas from building operations, to ticket sales, to creative design, and much more, but our differences are what make us much stronger. We're capable of achieving a lot more because we all bring something different to the table."
True North has demonstrated its commitment to its team by making learning and development a priority for all employees, offering various training sessions and courses. Through the 7 Habits of Highly Effective People, employees are guided in how they can develop self-leadership, productivity, and goal setting. For those developing in leadership roles, learning how they can develop others comes through the study of 6 Critical Practices, and 4 Essential Roles of Leadership. Not only has this helped employees grow together across departments, but it has created a culture of learning; giving True North a common vocabulary related to the aforementioned topics, and providing the opportunity for True North leaders to lead and facilitate the learning.
"Providing the tools for development is only one part of the equation," said Olfert. "Creating that type of culture requires work and engagement from our employees too, and we have such hard-working employees who are dedicated to what we are doing. That certainly goes for our external initiatives whether that be with our hockey teams, events, or venues, but that also applies to the work that we do internally."
Part of that culture is achieved in the workplace, with events like lunch and learns, or "All Hands Meetings". Equally important though, is the culture that is developed outside of True North's offices and workspaces at events like their annual Camp Day at Camp Manitou, holiday service day, summer intramurals, and more.
The culture of not only learning and development, but togetherness has even prompted some employee-led events over the past year, including outdoor hockey and softball tournaments.
"Employee engagement isn't a switch we can turn on," said Haus. "We do our best to create conditions for engagement where employees feel like valued members of a winning team doing meaningful work in an environment of trust. That makes it both rewarding and humbling to see employees engage in our culture, and then raise the bar by investing in it and contributing to it too."
Whether in goal setting, learning, development, or engagement, and no matter how much growth and change True North experiences, one thing will remain constant for the organization: ensuring that they are doing it together as a team.
‹ Main News