Downtown Safety Partnership receives $5 million from province
By Jason Friesen | June 26, 2020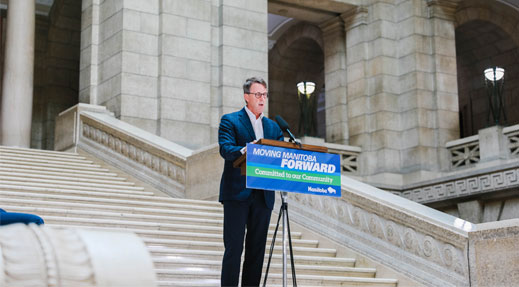 The Downtown Safety Partnership (DSP) is not just focused on making Winnipeg's downtown a safer and more welcoming place to be. It also ensures the community plays a part in driving those goals. A collaborative community focus is first and foremost and emphasized through the partnership of the Downtown Winnipeg BIZ, True North Sports + Entertainment, the City of Winnipeg, the Winnipeg Fire Paramedic Service, and the Winnipeg Police Service which pulls various organizations together with the provincial government to form the DSP. This community effort is only growing, as the Government of Manitoba announced on Friday, June 26 that they would be investing $5 million to support the community partnership.
The investment will give the DSP a firm foundation, allowing it to transition to a permanent, not-for-profit organization that is fully invested in enhancing public safety in the downtown area.
"Whether you live, work or play downtown, we want to make sure that you feel safe when you're downtown," said Justice Minister Cliff Cullen. "Our government has been working hard to modernize our justice system and enhance public safety. We're driven by our policing and public safety strategy.
"This investment will support a partnership between public safety experts, community organizations, the private sector, and government. The Downtown Safety Partnership will work to make downtown safer, using successful, evidence-based strategies, and previous research on community-based approaches to public safety."
The initial priorities for the program include expanding downtown safety team and outreach presence, as well as increasing the hours of service to give a 24-7 presence across areas of downtown. These safety teams would include highly trained community support workers with the ability to handle situations that police and paramedics might currently be addressing, but that don't necessarily require their response.
For the Downtown Winnipeg BIZ, this also serves as an evolution of various street outreach teams they have had over the years.
"What we know is that safety means more than the absence of crime," said Downtown Winnipeg BIZ CEO Kate Fenske. "It means all members of our community have access to the help and support they need when they need it. It means connecting people with the right resources at the right time, connecting a young person with skills training and helping them find a job, connecting individuals affected by addiction or mental illness with a network of support or a place to live where they feel safe, and they are safe. It means knowing there is someone you can trust, and that you can rely on. The DSP model looks at safety through this lens."
Along with an increased community safety team presence, developing a 24-7 Downtown Safety Communications Centre to provide real-time information and updates to downtown safety partners is also a priority for the group.
"The purpose of this organization is to complement and build upon the great work that is already being done in our downtown every day," said Mark Chipman, Board Chair of the DSP. "The days ahead, we know, are going to be challenging. However, I have to say that I have every confidence that with the guidance of our board and advisory board members, we will be able to succeed in significantly expanding the capacity to serve all of the citizens of our downtown, and in the process make our downtown a healthier and safer place for everyone."
At the center of all of the DSP's priorities, remains the community. As Fenske notes, the work and services the DSP is developing aren't just for the community; they will also be contributed to by the community.
"This is about much more than consulting with the community; it's about community having an ownership stake."
Photos courtesy of the Province of Manitoba and Travel Manitoba.
‹ Main News