EDW and TN announce new ticket entry policy to #WPGWhiteout Street Party
By Krista Sinaisky | May 11, 2018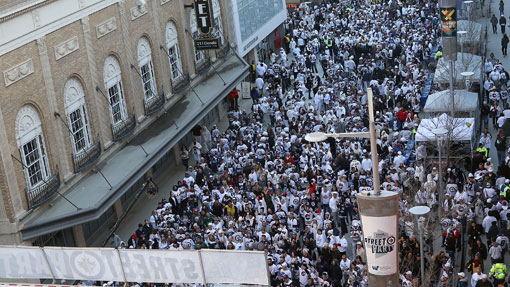 Economic Development Winnipeg (EDW) and True North Sports + Entertainment announced today that fans who want to attend the #WPGWhiteout Street Party will be required to secure their free entry tickets in advance. Available for free download at www.ticketmaster.ca, fans who secure tickets online guarantee themselves entrance into the street party. Gates open for the next street party at 4 p.m. CT on Saturday, May 12, 2018 as the Vegas Golden Knights take on the Winnipeg Jets at Bell MTS Place in game one of the Western Conference Final.
Media Availability
Who: Dayna Spiring – President & CEO, Economic Development Winnipeg
Kevin Donnelly – Senior Vice-President, Venues & Entertainment, True North Sports + Entertainment
Dave Dalal – Inspector, Winnipeg Police Service
What: New ticket entry policy to #WPGWhiteout Street Party
Where: Richardson Centre Concourse (lower level of Richardson Building, by entrance to the Fairmont).
Meeting rooms A&B.
When: noon CT
With the Winnipeg Jets securing a spot in the Western Conference Final, demand for street party entry is expected to increase significantly on Saturday, reaching a crowd of 20,000 to 25,000 people, plus another 15,000 attending the game itself at Bell MTS Place. To ensure the site remains safe, secure, and enjoyable for everyone, True North, along with Economic Development Winnipeg and the City of Winnipeg, has made the decision to issue tickets online.
The maximum crowd capacity for the licensed area of the street party will be approximately 22,000 and the family area at the Millennium Library will be approximately 3,000. Having a pre-determined street party capacity, achieved through ticketing, allows organizers to eliminate the variables of larger-than-expected crowds and to assess more accurately the necessary resources required to keep the street party a safe and enjoyable experience for all fans.
A maximum of eight tickets per order will be available for the first two #WPGWhiteout Street Parties in the Western Conference Final at www.ticketmaster.ca starting at 12 p.m. CT. Tickets for the street party will also be made available at the Bell MTS Place box office. Street party tickets for games five and seven will also be made available, if necessary.
Once again, food collection bins will be located at the street party. To date, Jets fans attending True North playoff-related events, including street parties, have donated 14,000 kilograms (or 31,000 lbs.) of food for Winnipeg Harvest.
For more info on the #WPG Whiteout Street Parties, please visit economicdevelopmentwinnipeg.com/winnipeg-whiteout.
‹ Main News