Experiencing Camp Manitou through smell, touch, and taste
By Krista Sinaisky | June 25, 2018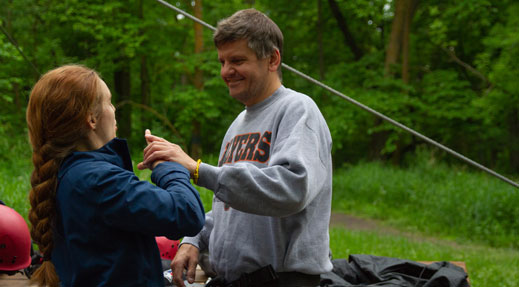 First-ever Canadian Deaf-Blind Camp an inspiring and memorable week
All the thrills of camping will be remembered in a different way for 30 members of Canada's deafblind community, who participated in a first-of-its-kind event at Camp Manitou this June, which also happens to be Deafblind Awareness Month.
Along with memories of adventure and accomplishment in trying new things, the joy of socialization and commonality, and the takeaway of new friendships, campers' mental scrapbooks will include the smell of cedar, the feeling of splashing pool water and the rush of wind against their skin from speeding down the zipline, the warmth of the fire, and the taste and texture of gooey roasted marshmallows.
Organized by the Resource Centre for Manitobans who are Deaf-Blind (RCMDB), the week-long Canadian Deaf-Blind Camp (CDBC) was attended by individuals with a spectrum of both hearing and vision impairments, ranging in age from late 20s to mid-70s, and accompanied by 42 support workers and a few seeing eye dogs.
"It's important for our community to socialize otherwise we can be pretty isolated," said Tracey Metzger who travelled from Vancouver to participate in the camp. "Most of our families [can hear] and we have more time being isolated than being social."
The RCMDB hosts a variety of outings to encourage socialization and experiences among the deafblind community but there is still much awareness to spread about the challenges that the deafblind community face, as well as the resources that are available to them through like organizations across the country.
"Every day these people get up and face the world and get out of bed with a smile on their face," said Trevor Barrett, a member of the planning committee who has recently become a member of Manitoba's deafblind community. "The world has become so small and it can be severely isolating, but events like this show that you don't need to be isolated or limited. You can still have fun and learn and grow as people."
For those who have never had, or who have grown to lose their vision or hearing, life is about adaptation and Camp Manitou also had to adapt to welcome the group and ensure they got the most out of their experience.
Bonnie Heath, Executive Director of RCMDB (and the interpreter agency E-Quality Communication Centre of Excellence) and Angela Mayen-Obregon, RCMDB coordinator and driving force of the CDBC, spent two hours with Manitou staff, overviewing some of the challenges, considerations, and small but thoughtful modifications that could help campers navigate the space and fully all the activities Camp Manitou has to offer – and there were no activities that weren't attempted, even biking.
"There were so many things that we wouldn't have thought of when we typically run camp and that we had to do differently," said Rick Bochinski, Camp Manitou Director. "We take for granted our ability to navigate the little pot holes and ruts, but any little change in surface could be a hazard."
Bochinski and the other staff were amazed to see campers' adaptations in action, following the specially mounted ropes and neon markers to get to and from their cabins and the bath house, and gaining familiarity by counting steps. Staff had to be very mindful of keeping things in their place as something as simple as moving a table or garbage bin could disrupt the mental pattern that campers were using to map out their path. Shoulder taps complemented audio cues to signal turn taking or activity changes and by the end of the week some staff were even picking up sign language.
Camp Manitou Activity Leader, Cam Sass had to plan and think differently in his approach to instruct and assist campers, and was rewarded by their energy and determination, feeding off their happiness and excitement at reaching new achievements. Sass even surprised himself by being able to communicate in sign language beyond the basics of 'thank you' and 'you're welcome'. One of the volunteers taught him some signs to celebrate campers' successes.
"Apparently I said 'rock' one time but then I got the slight difference between 'rock' and 'good job'," he laughed.
Added to the typical activities of swimming, nature hikes, rock wall climbing, and arts and crafts, campers also enjoyed special workshops, a canine 'show and tell' presented by the RCMP, and a deafblind comedian. Each camper also put their own artistic touch on a canvas mural that commemorated the experience.
"Everyone is making friends, sharing their stories, sharing their knowledge, and learning new skills," said Barrett. "They're around people like themselves, where they don't have to explain themselves, everybody understands, and they can unwind, relax, and have some fun."
Offering the best of the wilderness with the proximity to city amenities like medical care, and a full array of on-site activities and services like meals and the recently built cabins for overnight accommodations, Camp Manitou was the ideal facility to host the Deaf-Blind Camp. With a great relationship started with the Camp Manitou team and with True North, the group hopes to make it an annual event that continues to grow.
"I walked into this camp saying I'm pretty sure I'm going to walk out being a better man than I was walking in," said Barrett who was set to take in as much as he could on the last day of camp in what was a week that went by all too quickly. "I really think that if people want to see something inspirational and see people conquer a big hurdle, come out to camp for a visit. Come out and volunteer with us and get to meet us, it would be a real eye opener."
For more information on the RCMDB and the Canadian Deaf-Blind Camp, please visit rcmdb.mb.ca/ or on Facebook at facebook.com/canadiandbcamp/. To help with fundraising toward next year's Deaf-Blind Camp, please visit ca.gofundme.com/canadian-deafblind-camp.
‹ Main News