Farewell Dante
By TN Staff | December 18, 2018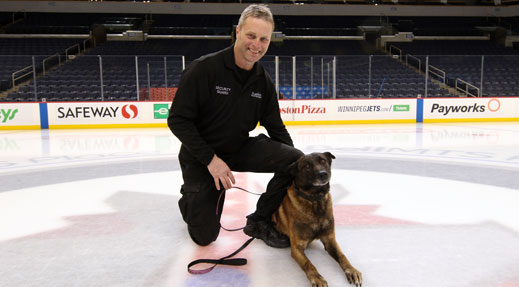 It is with deep sadness that True North Sports + Entertainment announces the passing of Dante, the 9-year-old canine leader of its security dog team.
When True North introduced the new security detail in 2017, Dante was right at home at the venue, enjoying a hard day's work behind the scenes with trainer and best friend Dave Bessason before eagerly greeting fans at patrons in the Bell MTS Place atrium and concourses. Dante has many fans of his own, who rewarded him with pats and scratches on the head and socializing with fans was by far his favourite part of the day.
True North was a second career for the Belgian Malinois who was trained by and worked alongside Bessason with the Winnipeg Police Service Canine Unit prior to joining True North.
Dante leaves 'sister' Daisy, and newest additions Grace and Ryp to lead the charge at Bell MTS Place events. He will be greatly missed by everyone in the True North family.
‹ Main News