Grand Opening of True North Square Plaza "A great day for Manitoba"
By TN Staff | October 3, 2018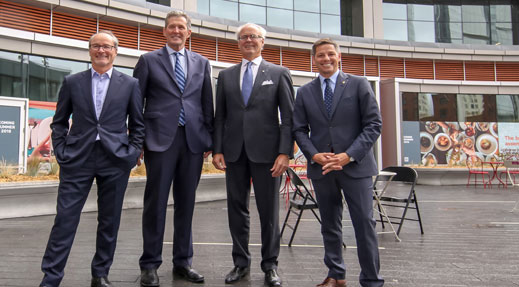 What was once a surface parking lot is being celebrated as Winnipeg's new architecturally innovative meeting place in the heart of downtown. True North Real Estate Development (TNRED) marked the grand opening of its new plaza at True North Square by hosting live entertainment, food trucks and an official opening ceremony event on Sept. 27.
After years of planning and construction, the plaza is a part of the True North Square development that is set to be the anchor for the revitalization of downtown Winnipeg.
Leading up to the big day it was all hands on deck as teams from PCL Constructors Canada and property management firm Bentall Kennedy put the final touches on the plaza before welcoming hundreds of visitors throughout the day.
For many attendees, it was well worth the wait. On the morning of the opening, Tim Hortons served free coffee while visitors took in the space, including a dancing 56-jet water feature, grand stair featuring wood-clad steps, modern seating areas, and an assortment of prairie grasses.
The official opening was accented by a gathering of dignitaries, current and future True North Square tenants, project partners, True North Sports + Entertainment employees and members of the public in the lobby at 242 Hargrave. An Indigenous honour song celebrated the occasion, followed by speakers from the government and business community.
Premier Brian Pallister told the crowd, "This is a great day for Manitoba. This is a great day for Winnipeg. This is where Canada's heart beats, Manitoba. Winnipeg is where Manitoba's heart beats, and downtown Winnipeg is where Winnipeg's heart beats.
"Today we celebrate an investment in the future of this heart. Today our hearts beat more loudly and with more pride than they did yesterday."
The project's ground breaking commenced January 2016, with 242 Hargrave being completed June 2018. The building, which is the first of four True North Square towers, is Winnipeg's first privately developed office building constructed since 1990. Its taller sibling at 225 Carlton, reached its final height of 25 storeys in March and is pushing toward a spring 2019 opening for residents and retail. The progress will further activate the Sports, Hospitality and Entertainment District (SHED).
"As Winnipeggers, we have much to be proud of. We seem to punch above our weight and always find the collective will to get things done. True Square is a shining example of that," said Hartley Richardson, President and CEO of James Richardson & Sons Limited and True North Square project partner.
This fall, the new Scotiabank retail branch will open and early in the new year Scotiabank employees will move into their office space. In summer 2019, a locally inspired food hall concept will open to the public in 242 Hargrave. Hargrave Street Market will feature best of brand local offerings, with a focus on quality ingredients, along with an epicurean market. A liquor store in 225 Carlton will complement the retail offerings within the project.
The plaza will be a new destination for downtown; a place for Winnipeg Jets and Manitoba Moose fans to congregate before and after games, for concertgoers to rendezvous before performances and for Winnipeggers to meet and enjoy on a daily basis.
"This is the beginning of an evolution," said Kevin Donnelly, Senior Vice President of Venues & Entertainment with True North. "We are open to the possibilities and to the many types of activities and entertainment that can be hosted in True North Square's plaza, from pre and post-game and concert activities to community-hosted events."
TNRED looks forward to future milestones including the ground breaking for Phase II of the development at the corner of Carlton Street and St. Mary Avenue that will include towers 3 and 4, the Sutton Place Hotel and Residences; future retail and tenant announcements for 242 Hargrave and 225 Carlton; and the launch of residential leasing of 225 Carlton in early 2019.
"The opening of True North Square is a celebration of the growth of our downtown, the mounting prosperity for our city, and the continued progress and excitement that is still to come for this innovative space," said Jim Ludlow, TNRED's President.
For more sights and sounds of the grand opening of True North Square's plaza, tune into All Access TV, below, and visit truenorthsquare.com for more information.
Story and video by Matt Worobec
‹ Main News