From the streets to the Hall of Fame
By Krista Sinaisky | November 17, 2017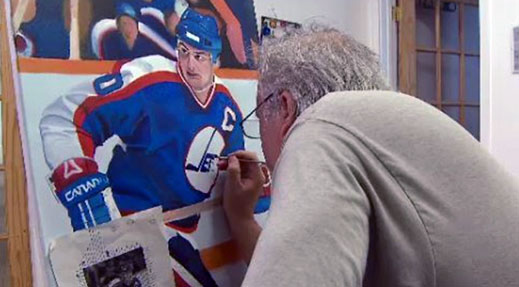 Winnipeggers may have seen local artist Jamie Hogaboam around downtown, painting and selling his art on the street for a modest price as a primary source of income, but a handwritten letter to the Winnipeg Jets changed his fate and propelled his art from the streets to the team's hall of fame.
Having struggled with homelessness and his own mental wellness, Hogaboam's articulate, passionate, and altruistic letter outlined the hardships of mental illness and requested financial support for Artbeat Studio, which has a program for artists with mental health issues but is fighting to stay open.
Upon reading the letter and seeing the painting of Terry Sawchuk that Hogaboam had also enclosed, True North's Executive Chairman, Mark Chipman was inspired by Jamie's story, selflessness, and talent. As the two got to know each other, Chipman was also quickly impressed by Hogaboam's knowledge of Winnipeg Jets history.
Hogaboam was commissioned to capture historic hockey moments that would honour the next four years' inductees to the Winnipeg Jets Hall of Fame. His first painting of Dale Hawerchuk was unveiled at the 2017 Winnipeg Jets Hall of Fame Luncheon on November 15.
The opportunity has given Hogaboam a step up, offering stability and a new-found hope to keep persevering with his life's passion.
Learn more about Artbeat Studio at artbeatstudio.ca and see more of Hogaboam's art on his facebook page /hoagieartworks.
‹ Main News