Honouring history and committing to the future
By Krista Sinaisky | April 20, 2021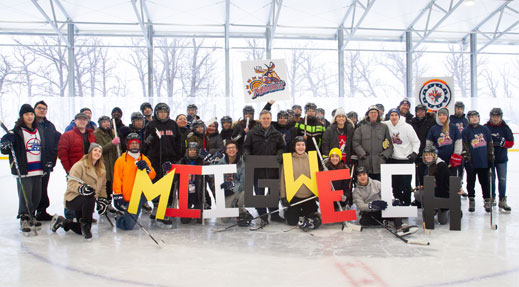 Just like the treaties they recognize, territorial (land) acknowledgements are not just one-time exchanges, but the ongoing promise of a meaningful and continued relationship that speaks more so to the future than to the past.
In 2016, after already having banned the headdress from Bell MTS Place because of its sacred meaning to Indigenous communities, True North Sports + Entertainment took steps to formally respect and honour relationships with Indigenous peoples and the lands in which we inhabit. As a part of this, the organization engaged Niigaan Sinclair to collaborate on the creation of a territorial acknowledgement to be read before every Winnipeg Jets and Manitoba Moose home game at Bell MTS Place – in the heart of Treaty One.
This gesture cemented two critical elements, representing a growing relationship and shared future for True North and Manitoba's Indigenous community.
"We're talking about two things in a territorial acknowledgement; we're talking about the people who we share a space with and who we've been taught not to see. We're talking about respect," stated Sinclair, an associate professor at the University of Manitoba and columnist on Indigenous issues originally from the Anishinaabe community of St. Peter's/Peguis First Nation. "At the same time, a territorial acknowledgement also commits to action moving forward so that once we see the people that we share that space with, we act responsibly in that relationship."
Sinclair has a long history of engaging Indigenous and non-Indigenous relationships throughout Canada, so much so in 2019, he was awarded Peace Educator of the Year from the Peace and Justice Studies Association based at Georgetown University in Washington, DC.
Over the four-plus years since introducing the territorial acknowledgement, True North has continued to seek the advice of those like Sinclair and Kevin Chief, a community advocate and business leader who has become True North's Sr. Advisor of Community Development. Together, True North and their partners have built positive ties and connections with many Indigenous communities.
"When we commit to that spirit of community, we interrupt violence and set the ground for a better future," said Sinclair. "We live treaty. This is not creating anything new but living up to the hopes and dreams that have built this place."
True North and the Manitoba Moose already have a long-standing history with WASAC (Winnipeg Aboriginal Sport Achievement Centre), so when the Winnipeg Jets and Moose launched a set of special games to celebrate Indigenous culture in 2019, it also wasn't a new idea, but the reaffirmation and continuation of an existing relationship.
The initiative engaged Indigenous youth from communities across Manitoba and new Indigenized team logos and jerseys became a source of pride among Indigenous peoples.
When Bell MTS Place sat empty to fans for the 2020-21 season, it prompted the territorial acknowledgement to be permanently and more prominently located immediately preceding the national anthem. For Sinclair, it's a move that brings more meaning and one that he hopes will create more awareness and knowledge-seeking of the history of Canada's colonization.
"It's now in a place of prominence and reminds everyone that treaty is foundational to all relationships here. Because it will be heard by so many, my hope is people will learn, think, and talk about the many responsibilities Manitobans and Canadians share with Indigenous communities. I hope they ask questions too. This is how you provoke change."
Sinclair says the answers to those questions come from actions of kindness, respect, ethics, generosity, sincerity, learning and sharing – traits and actions treaties are based upon.
Some examples of how True North is trying to fulfill this vision include not only WASAC Night and the Manitoba Moose Follow Your Dreams Game, but through clothing drives, opportunities for Indigenous peoples within the workforce and in the True North Youth Foundation who provide Indigenous student athletes with the opportunity to play hockey alongside receiving academic and mental wellness supports.
"The actions of True North have built healthy relationships with the Indigenous community and you can see it in the pride Indigenous peoples have when working with them," said Sinclair. "In many ways, it's a model for all. Not perfect, but always growing and never giving up on one another."
With Sinclair's support, the Winnipeg Jets were the first NHL team to so introduce a territorial acknowledgement. The team was quickly followed by other NHL teams, amplifying the message and creating conversation across North America – or, as Indigenous peoples call it, Turtle Island, a symbol Indigenous peoples use in creation stories describing how these lands are formed on the back of a turtle.
"It started here because in Manitoba we have one of the highest proportional Indigenous populations where Indigenous voices are pushing this conversation and demanding change in every segment of society. We see engagement and relationships in this place that are very unique."
The Winnipeg Jets will host their third WASAC game on April 24 and True North's growing and evolving relationship with the Indigenous community is reflected in this season's celebrations, which include the legendary Ray St. Germain as a special guest anthem singer, and the incorporation of newly created visual art to the territorial acknowledgment.
On the other side of the pandemic, True North looks forward to the ability to again share spaces and interact with Indigenous communities.
"These kinds of events define what it means to be a part of this community; to include, engage and commit to all of our relations – and grow our future together."
‹ Main News