Inaugural Jets Season Ticket Member Advisory Council brings voice of fans to the table
By Jason Friesen | October 26, 2022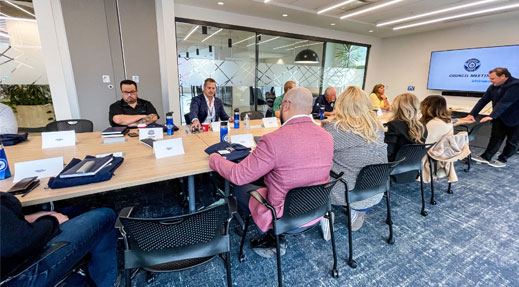 The Winnipeg Jets have never just been a team of NHL hockey players. In both the 1.0 and 2.0 eras, they've represented something much bigger than that as Manitoba's hockey team and a unifying force for our province. But as much as the team impacts the community, the team would also be nothing without the support of its loyal fanbase.
In acknowledgment of that community importance, and to gain valuable insight from a group of people who represent the voice of the fans, the Jets selected and assembled their inaugural Season Ticket Member Advisory Council for the 2022-23 season from hundreds of applications. The group consists of Full, Half, and Quarter Season Ticket Members from the passionate fanbase who will give input on a variety of topics throughout the season pertaining to the year-round fan experience.
The Advisory Council of 13 met with Jets business leaders for an introductory meeting in late September, and then convened for their first official meeting on Oct. 5. Though there were many things to brief the group on, that community importance of the Jets wasn't one of them.
"I grew up in the Jets 1.0 era, loved the Jets, and graduated from high school the year we lost them," noted Advisory Council Member Scott Marohn. "I grew up two hours away from Winnipeg but moved into Winnipeg and experienced a city without an NHL hockey team. It really was that atmosphere that connected everyone, and I didn't feel that growing up in university and through those years. But when the Jets came back, that vibe existed and it's that glue in the community, and I want to make sure that vibe continues to thrive."
Marohn's sentiments are echoed by all members of the council. They've all experienced first-hand the importance of the Jets to the community, and they're invested in helping continue and grow that impact.
Some members have even experienced the team's unifying powers while living outside of Canada's middle province.
"I lived away for school and being connected to Winnipeg through the Jets – watching the games on TV, going to see them in the cities that I lived in – I could feel that connection back to Winnipeg," said council member Briana Hagen.
Assembling an intentionally diverse group of people with many different backgrounds, experiences and areas of expertise has already led to some valuable conversation on topics such as the Jets loyalty program, digital products, content, and the evolving ticketing market in the two meetings they've had.
"We have a very vocal and opinionated group, and a very respectful group," noted Allan Chan, another of the council members. "Everyone is very open to new ideas, and everybody is very good at communicating. A lot of the discussion has revolved around the fan experience and what we want to see to make the whole experience better. I'm really excited for the upcoming changes and seeing the ideas that we've talked about come to fruition."
"Everyone experiences a game differently, and we're all bringing those different experiences to the table," added Marohn. "We're getting down to even the minutiae, and what I'm taking away is that every little detail is meticulously looked at in order to understand the bigger picture."
It's that diversity that will continue to be one of the group's biggest strengths as they move forward with two more group meetings during this season along with ad hoc communications between the council and True North leadership. Each member takes it seriously that they are not simply attending council meetings to represent themselves and what they would like to see in the Jets fan experience, but they represent many more fans with valuable opinions.
Looking out for the interests of those many fans and growing the game is at the top of the list for member Ganni Maan.
"My passion lies in diversity, new fans, and new experiences. I want everybody in this city who has not been to a Jets game to experience it, and I'd love to see True North and the Winnipeg Jets brand in all communities all over Manitoba. Being Manitoba's and Winnipeg's team, it's important that all Winnipeggers and Manitobans are represented, and it's something that I want to bring to the council."
Continuing to involve women and aiming to inspire young girls is of particular importance to Hagen.
"I want to bring to the group a perspective of a woman who loves hockey, and to see more of myself in the gameday experience, moving away from the traditional experience and creating more inclusivity. I have two young kids who both play hockey and I want them to look around and fall in love with the Jets the way I did when I was young."
Though each of them comes with different perspectives, it's already clear that this group of Advisory Council members, who will each serve a two-year term, will be pulling in the same direction as they strive to help True North and the Jets meet the expectations of their fans.
Just like the Jets squad they support, they know they can make a meaningful impact on the community.
"The Advisory Council is very similar to the on-ice team – it's going to surprise a lot of people," said Maan. "It's a very intelligent, passionate group that has put a lot of thought into being a part of this council, and we represent so many parts of Winnipeg that we feel that the recommendations that will come out of this will benefit the organization and the entire city."
To read more about each Season Ticket Member Advisory Council member, CLICK HERE.
‹ Main News