It's back to doing what they love at True North
By TN Staff | March 21, 2023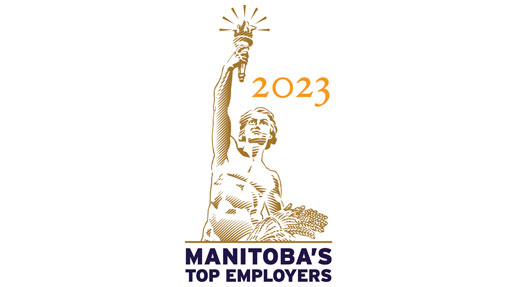 Jason Friesen was studying communications at university when he heard about a practicum placement opening at Winnipeg-based True North Sports + Entertainment. "I jumped at the opportunity – I'm a big sports fan," he says. "But over the year, I got to do a lot of different things. That led to full-time employment, and I've been here ever since."
Not only do many of the people Friesen, now co-ordinator of communications and content, works with share his interests, but the people at True North tend to have similar values as well – something the company looks for during hiring. "The basis of everything we do is team and trust and doing the right thing," he says. "Those are kind of core to the vocabulary around here, and you see it every day."
For a company like True North, which has 10 entities under its umbrella – including Canada Life Centre, the Winnipeg Jets NHL franchise, the Manitoba Moose AHL franchise, the multiplex hockey for all centre, and the Burton Cummings Theatre – with six different work locations and six ice surfaces, the pandemic was particularly tough.
"Public assembly, sports and entertainment – we were the first to be shut down and the last to come back," says Dawn Haus, vice-president of people and culture. Last year, president and chief
operating officer John Olfert stated that the organization's goal was to return to full venues safely, which was successfully accomplished. This year, the organizational goal was, simply, returning both the event calendar and sales back to pre-pandemic levels.
"A lot of people who joined even back in 2020 have never experienced a real full season of hockey," Haus explains. "They're going through new things together for the first time, and we're trying to bring them together in different ways to introduce them or reconnect them with each other."
In the summer, that took the form of 'Fun Fridays.' Different teams would have a turn and a small budget to do something creative for the entire staff in the company's café. "As an organization of, I would say, competitive people, it started out small but got to be quite extravagant," says Friesen. "Those were a lot of fun."
Since the pandemic, many of True North's employees have moved into a new office space, one with more collaborative spaces, including a large and beautiful café with a terrace that overlooks True North Square's plaza, Friesen adds. "It's revolutionized the way I interact with people – getting to know some a little better who I might never have known at all before and making even closer friends with others because we can sit together at lunch every day and talk. Everybody loves this space."
Employees have plenty of other opportunities to come together again, on downtown cleanup days, at monthly Lunch and Learns and through volunteering with the True North Youth Foundation's Winnipeg Jets Hockey Academy, among other things. And once a year they all head to the foundation's Camp Manitou for team building and fun and games. Employees also have the chance
to give back to the community in which they work through an annual 'Service Day.'
"Work just doesn't really feel like work here often," Friesen says. "It just feels like you're getting to work alongside people who are enjoyable to work with and it's fun and it's work that makes a difference in our community."
Haus agrees: True North is about its vision and its employees. "It's a lot of really smart and dedicated and passionate people," she says. "The people who work here really care about what they're doing – and we get to make an impact in the community. It is great to be a part of it."
Written by Nora Underwood
‹ Main News