Jets 2020-21 virtual season offers fan engagement and comprehensive coverage
By Krista Sinaisky | January 13, 2021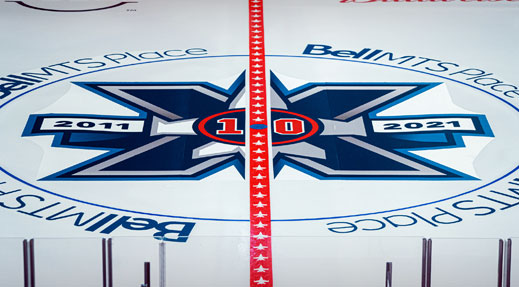 Home opener on TSN and 680 CJOB Jan. 14 at 7 p.m. CST
The Winnipeg Jets Hockey Club will launch their much-anticipated all-Canadian 2020-21 season with a home game vs. the Calgary Flames at Bell MTS Place on Jan. 14 at 7 p.m. CST.
Although the season will be virtual, there will be plenty of familiar faces, voices and ways for fans to engage with their home team. Stacey Nattrass will open the season by performing O Canada Jan. 14, Public Address Announcer Jay Richardson returns for his 10th season with the Jets and his 17th behind the mic at Bell MTS Place, and Brad Goodman (aka DJ FIN-S) returns as the Jets' DJ for his second season.
Led by veteran play-by-play commentator Dennis Beyak, analyst Kevin Sawyer and reporter Sara Orlesky, all Winnipeg Jets home and away games will be broadcast on TSN3 as well as online at TSN.ca and through the TSN app to TSN and TSN Direct subscribers in the Jets' designated broadcast region (for more information please visit WinnipegJets.com/MULTIMEDIA/BROADCAST-INFORMATION).
680 CJOB, along with Power 97, also welcomes the Winnipeg Jets back to its airwaves with play-by-play announcer Paul Edmonds and colour commentator Jamie Thomas, formerly of JetsTV, complemented by dozens of hours of weekly programming, including pre and post-game coverage hosted by Kelly Moore, and commentary and analysis from experts within the hockey and media community including Jets 1.0 and 2.0 alumni.
To enhance the viewing and listening experience, fans in Winnipeg and around the world will have the opportunity to engage with Winnipeg Jets second screen experiences leading up to and during each and every home and away game. By downloading the Winnipeg Jets Mobile App, fans will not only be able to get up-to-date news, interviews and videos, but they can also CHECK IN TO WIN, delivered by SkipTheDishes for the chance to play interactive games and win great prizes all season long. Watch Jets social media – @NHLJets on Twitter and Facebook – on gamedays for more information on how to participate.
Fans can stay informed on the latest team info including key gameday information by subscribing to Jets Mail at WinnipegJets.com/FANS/JETS-MAIL to receive gameday previews outlining team, player and matchup highlights, fan engagement opportunities, special initiatives, content and more.
Fans can continue the tradition of supporting the True North Youth Foundation (TNYF) on Jets gamedays through online 50/50 draws for both home and away games. The Winnipeg Jets 50/50 presented by PlayNow.com raises operating funds for the foundation's core programs, the Winnipeg Jets Hockey Academy, Project 11 and Camp Manitou, all of which continue to provide much needed support to Manitoba youth during the pandemic. Fans can purchase tickets and watch the pot grow at WinnipegJets.com/5050.
The JetsTV LIVE crew will continue their in-depth team coverage including pre and post-game shows presented by Budweiser live from the Budweiser King Club in Bell MTS Place. Hosted by Mitchell Clinton, programming will focus on delivering comprehensive coverage, including the unique stories within the Jets' bubble. The JetsTV LIVE pre-game show starts one hour before puck drop prior to every home game while post-game shows begin immediately following the conclusion of both home and road games. Fans can watch the shows and view all of the extensive JetsTV coverage by visiting WinnipegJets.com/JetsTV.
The team will premiere the newly introduced Reverse Retro jerseys on Feb. 4 vs. Calgary and will wear them a second time on March 2 vs. Vancouver. The Aviator jerseys will also make six home game appearances on Jan. 24 (Edmonton), Feb. 1 (Calgary), Feb. 13 (Ottawa), March 17 (Montreal), April 4 (Vancouver) and April 23 (Toronto).
The Winnipeg Jets will continue to support and promote NHL and team campaigns held virtually this season, including #HockeyTalks (January), Black History Month (February), Gender Equality (March), NHL Green (April), and Pride Month (June).
Dedicated games will recognize initiatives and causes close to the organization and will include the appearance of specialty warm-up jerseys for Canadian Armed Forces Night on Feb. 13 vs. Ottawa, Hockey Fights Cancer Night on Feb. 27 vs. Montreal, You Can Play Night on April 6 vs. Vancouver, and WASAC (Winnipeg Aboriginal Sport Achievement Centre) Night on April 24 vs. Toronto.
The Winnipeg Jets are pleased to continue to support important community initiatives through reimagined campaigns for Reading Takes Flight in February and the Winnipeg Jets Food Drive powered by SkipTheDishes in March.
More information on these initiatives will be announced at a later date, including details of online jersey auctions and ways fans can engage with the team and further support these causes.
To see the entire Winnipeg Jets 2020-21 season schedule, please visit WinnipegJets.com/SCHEDULE.
‹ Main News