Jets and Moose to host youth from Indigenous communities for 2022 WASAC and Follow Your Dreams games presented by Scotiabank
By TN Staff | March 28, 2022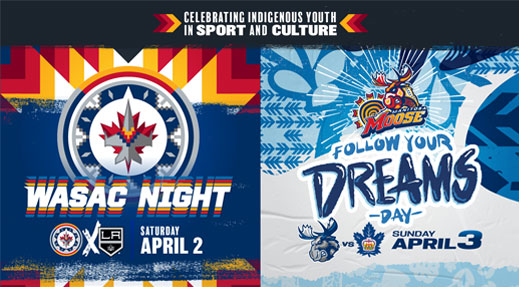 The Winnipeg Jets and Manitoba Moose will again celebrate Indigenous culture by hosting their annual WASAC (Winnipeg Aboriginal Sport Achievement Centre) Night and Follow Your Dreams Day games presented by Scotiabank. The Jets WASAC Night will take place on Saturday, April 2 vs. the Los Angeles Kings and the Moose Follow Your Dreams Day will follow on Sunday, April 3 vs. the Toronto Marlies.
The initiatives launch on March 29 at Camp Manitou with an unveiling of the new WASAC and Follow Your Dreams jerseys and a cheque presentation of funds raised from the 2020-21 initiative.
An important aspect of the WASAC and Follow Your Dreams initiatives for True North each season is sharing spaces, sharing stories, and fostering relationships. With the pandemic limiting many opportunities to do that since 2020, the Jets and Moose are again thrilled to be able to host youth from northern and remote Indigenous communities, including Pauingassi First Nation, Northlands Denesuline First Nation, Bunibonibee Cree Nation, Shamattawa First Nation, Pine Creek First Nation, and the Métis Community of Duck Bay. Tickets for all youth attending the WASAC and Follow Your Dreams games were purchased by Scotiabank to support both initiatives as presenting sponsor. As well as attending the WASAC and Follow Your Dreams games, youth will enjoy a morning of activity at Camp Manitou on April 2, including participating in a Project 11 mindful movement session led by Métis yoga instructor Reid Davies, and a skating session on the camp's outdoor rink with former NHLers Trevor Kidd and Jason Simon.
Jets fans will be treated to a special game at WASAC Night on April 2 at 6 p.m. The Jets will wear their 2022-edition WASAC jerseys for the pre-game warm-up, followed by the premiere of a special song created for the initiative by Anishinaabe DJ and producer Boogey the Beat in collaboration with Southern Thunderbird Medicine Drum – an all-female drumming group – which will accompany an on-ice projection presentation before the game. Prior to puck drop, students from Isaac Brock School will perform O Canada in Cree while the first intermission will feature singer Krista Rey performing The Métis Anthem.
The Moose Follow Your Dreams Day game on April 3 at 2 p.m. will also feature Indigenous music and imagery throughout the afternoon, with the Moose donning this year's Follow Your Dreams jerseys throughout their match. A special jersey presentation will take place before puck drop in recognition of retired RCMP Sergeant Sam Anderson who was key to the inaugural Manitoba Moose Follow Your Dreams Day in 1999 and in subsequent years of the program. Off the ice, fans can look forward to live music on the concourse during the pre-game and intermissions. The Royal Canadian Mint will host a booth where guests may trade their own coins for uncirculated coins featuring the artwork of Bill Reid – an award-winning Canadian Haida (Pacific coast First Nation) artist. Fans will have the chance to immerse themselves in Indigenous culture after the game too, with the opportunity to win free memberships and passes for the Winnipeg Art Gallery's Qaumajuq Inuit art exhibit courtesy of the WAG.
Both the Jets WASAC jerseys and the Moose Follow Your Dreams jerseys will be auctioned off to raise funds for WASAC and their efforts to continue to create opportunity for Indigenous youth across the province. A selection of the Moose jerseys will be auctioned off during the Follow Your Dreams Day game on the concourse outside Section 125, while the remainder will be auctioned off at auctions.nhl.com/manitobamoose, along with the Jets WASAC jerseys at auctions.nhl.com/Winnipegjets, from Thursday, April 7 to Sunday, April 17.
Fans can get WASAC and Follow Your Dreams apparel including t-shirts, hoodies, toques and more, at any of the five Jets Gear locations or online at TrueNorthShop.com with a portion of WASAC merchandise proceeds going to WASAC.
WASAC Night and the Manitoba Moose Follow Your Dreams Day are part of the NHL's "Hockey is for Everyone" initiative, which promotes diversity and inclusion in hockey and showcases the need to foster a safe and inclusive environment for everyone in the community to both play in and enjoy.
For more information on the Jets WASAC initiative, visit WinnipegJets.com/COMMUNITY/WASAC. More details on the Moose Follow Your Dreams initiative can be found at MooseHockey.com/COMMUNITY/FollowYourDreams.
‹ Main News