Jets excited to be Fuelled by Passion of fans again
By Jason Friesen | February 10, 2022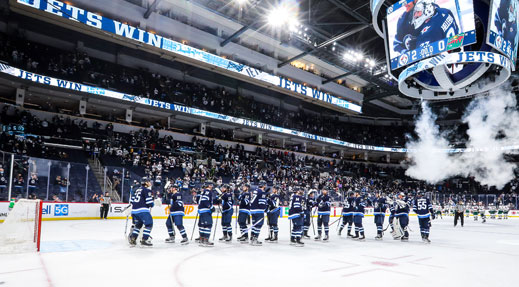 Fuelled by Passion.
For the Winnipeg Jets, it's more than just a slogan. It's a foundational and true statement about the team and its loyal fanbase, whose raucous passion has made Canada Life Centre one of the loudest buildings in the NHL.
The only way to keep the building quiet during a Jets game is to pull the fans out of the arena, and after two January home games with restricted attendance of 250 fans per game, moving to 50 percent capacity at the arena for the Feb. 8 matchup with the Central Division rival Minnesota Wild – and all February home games – was a welcome sight for fans and players alike.
The in-game experience has been greatly missed by many fans, many of whom haven't been able to attend a game in nearly two months. Walking back into the arena to the aroma of Jet Dogs and popcorn, the fun of Fan Cams on the scoreboard, the stunning sight of on-ice projection shows, and the thrill of the best hockey in the world for a Jets game was a much-needed night out for many on Feb. 8.
The Jets have missed their faithful supporters just as much and felt the energy in their 2-0 win over the Wild.
"It was nice to have some fans in the building," said Jets forward Adam Lowry. "That gives us some energy and we came out with some jump early. We didn't really look back."
"That was a step in the right direction," added Connor Hellebuyck, after his sensational performance in net shut out the Wild for the first time this season. "I think everyone bought in, the details were right…the crowd was there, or at least half of them. That was an exciting game to play."
Jets fans will have plenty to make noise about off the ice too, thanks to a packed promotional schedule in the coming weeks.
The Go Green Game, originally planned for Jan. 8, will take place on that game's rescheduled date of Feb. 17 against the Seattle Kraken.
The Jets will celebrate Gender Equality Month on March 8 against the visiting Tampa Bay Lightning.
A mini-jersey giveaway will take place on March 15 against the Vegas Golden Knights.
Pride Night will be celebrated on March 22, also against the Golden Knights.
The all-new Next Generation Game lands on March 27 as the Jets take on the Arizona Coyotes.
Don't miss out on any of the action as the Jets chase down a playoff spot in the second half of the season. Fuel your Passion by purchasing tickets to upcoming games at WinnipegJets.com/TICKETS.
‹ Main News