Jets' Gameday Broadcast Liaison paving the way for women in broadcast engineering
By Krista Sinaisky | March 17, 2023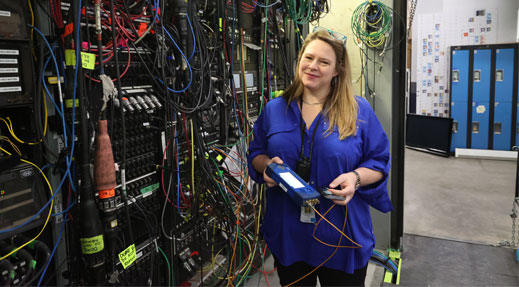 The camera doesn't often turn behind the scenes but there's a complex world behind the makings of a broadcast like a Winnipeg Jets home game and, though you'll never see her, Tessa Potter is an integral contributor.
As True North Sports + Entertainment's Broadcast Liaison, Potter serves the home and visiting broadcast teams, liaising as a single point of contact between them, the internal gameday production and venue operations teams, and the NHL to ensure each has what they need for a successful and glitch-free production.
"You always get a bit of wonderment from someone when you say 'I work for the Jets', or 'I work for a broadcaster', or 'I work in television'," said Potter. "It is really interesting to find out this world behind the scenes and how it works. It's a privilege but the science and the technology behind it are pretty cool."
A Jets gameday can see Potter fulfill any number of tasks from clarifying camera positions and answering questions, to running needed supplies – like stools for camera operators, or extra equipment like microphones and cables – doing technical coordination, and problem solving as issues arise. The role requires quick thinking, the ability to work under somewhat pressing circumstances (it is live TV after all) and remain level-headed, cognizant that everyone is under similar pressures.
"Everybody has different deadlines and different shows they're responsible for and my role allows those teams to focus solely on that while I do the running around between to make sure coordination happens in the way that both True North and the broadcasters need."
Being in front of the camera was never Potter's goal, so she had to do some digging to find out how she could be involved in the excitement of broadcasting but in a role that was more suited to her hands-on interests and curious nature.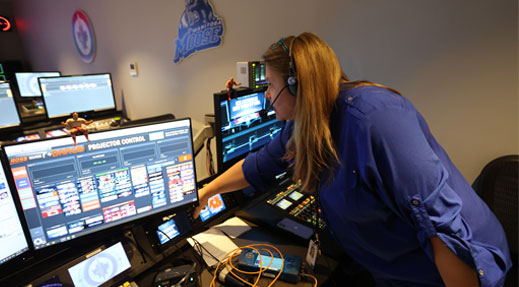 Red River College Polytechnic's two-year Electronic Engineering Technology program was a jumping off point where she learned basic electronics and computers.
From looking after AM/FM transmitters, managing technology upgrades and installing, setting up and servicing audio visual equipment (like video switchers, video routers and cameras) to pulling cables and commissioning and configuring new equipment, no two broadcasting roles – or days – are ever the same so there is plenty of specialization that comes from each unique job experience and Potter has done all of the above.
She said the industry is well-suited to self-starters who have an interest in how things work, who like to continually learn, and who aren't afraid to get a little bit dirty as both mental and physical problem solving are involved.
"I still crawl under the stands occasionally and install gear for gameday, but it's a little bit more about communicating and coordinating which is kind of exciting as it gets to stretch a few different muscles and use the knowledge that I've learned from being hands-on on the ground floor."
Potter's gameday gig is just one of three part-time industry roles she currently juggles, each pulling from different areas of her expertise. She enjoys that diversity and the flexibility which allows her to focus on her young family as well as take in unique work experiences abroad.
She first got her foot in the door of big-ticket international sporting events in 2016 with the BBC in Paris for the Euro Cup. Every year she gets a few new passport stamps, most recently from the World Cup in Qatar and the Tokyo and Beijing Olympics, considered among her career highlights. Upcoming are the Women's World Cup this summer and the Paris 2024 Olympics.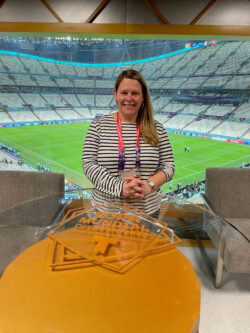 Although she had to turn it down, the offer to work at the 2022 Oscars is indicative of the high-level experience Potter has amassed and how highly regarded she is in the industry. And with every new opportunity, she builds on the experience she brings back to Jets gamedays.
"There are not very many women on the venue engineering side in live sports, so I think for China, I was the first woman ever to do engineering for the Olympic opening ceremonies for NBC," she said adding that the experience – her first Olympics, and in the midst of a global pandemic – was lifechanging.
Potter recently became the first female president of a broadcast association in Canada when she took on the role with the Western Association of Broadcast Engineers (WABE). She hopes to use her platform with WABE, not only to advocate for the industry, but specifically for women and diversity in the sector.
"I've thought a lot lately about mentorship, more than I have in the past because I felt like I was always still learning and didn't think I had something to offer."
Having had the chance to reflect, she recognizes the wealth of experience and advice she can offer and realizes that mentorship and advocacy is exactly what her industry needs.
Like many trades requiring specialized technical skillsets, the pandemic affected employment within broadcasting. Historically, the industry has also been somewhat protective of its expertise. As a result, the industry is now experiencing the effects of a lack of mentoring, knowledge transfer and succession planning, but Potter is seeing an upturn. She also encounters more women on technical crews and hopes to continue to encourage this growth – especially at a time when there is so much job opportunity.
So far, it has been a very fulfilling career for Potter.
"No matter how difficult days were or how hard some of the projects may have been or how endless transition can sometimes feel exhausting, I've met a lot of great friends, worked with lots of great colleagues and have seen many interesting places and buildings. It's also been pretty rewarding because when you fix things, people are smiley and happy."
‹ Main News