Jets host NHL 19 Tournament Final and Show Match at Bell MTS Place on Feb. 18
By Jason Friesen | February 13, 2019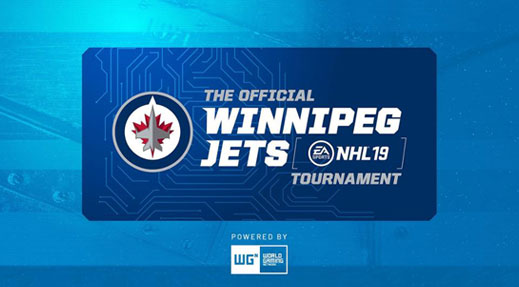 The champion of the first-ever official Winnipeg Jets NHL 19 Tournament, powered by WorldGaming Network, will be crowned at Bell MTS Place on Monday, Feb. 18, 2019.
The tournament, which began with over 1,300 entrants from 46 provinces and states across Canada and the United States will see the finalists of the Playstation 4 and Xbox One brackets meet face to face in Winnipeg to determine the ultimate champion. Finalists are vying for a share of $6,500 CAD in a best-of-five match with the champion receiving $4,500 CAD, and the runner-up receiving $2,000 CAD. Once the grand final is settled, the two finalists will battle for bonus bragging rights alongside Winnipeg Jets players Patrik Laine and Connor Hellebuyck in a single-game, two-vs-two show match.
The Winnipeg Jets NHL 19 Tournament Championship and show match will be streamed live on Twitch.tv/winnipegjetsofficial as well as on the Winnipeg Jets Facebook, Twitter and YouTube Accounts on Monday, Feb. 18, beginning at approximately 2 p.m. CT. NHL esports voices Arda Ocal (@ArdaOcalTV) and Nicco Cardarelli (@BroBehindTheMic) will provide commentary and analysis during both the finals and show match.
The Team Laine vs. Team Hellebuyck two-vs-two show match will also be shown live on the Bell MTS Place arena scoreboard following that afternoon's 2 p.m. CT Manitoba Moose game against the Milwaukee Admirals. Attendees of the game will have the unique opportunity to watch this event, the first of its kind happening live at Bell MTS Place.
With the qualifying stages now complete, the Winnipeg Jets are pleased to announce the two grand finalists: Justin "Regs" Reguly from Thunder Bay, Ont. who won the PS4 bracket, and Josh "Ofs" Fuss from Greenwich, Conn. who won the Xbox One bracket. Both players earned their spot in the grand finals by finishing first in a six-person closed qualifying round on each platform over the weekend of Feb. 9 and 10. The open and closed qualifiers were administered and run by WorldGaming Network, the official tournament platform of the 2019 Winnipeg Jets NHL 19 Tournament.
Following the success of the 2018 NHL Gaming World Championship last season, the Winnipeg Jets were one of the first NHL teams to launch their own official tournament.
For more information on the official Winnipeg Jets NHL 19 Tournament including up-to-date results and news, visit winnipegjets.com/gaming.
For tickets to the Feb. 18 Manitoba Moose game, visit moosehockey.com/tickets.
‹ Main News