Jets to host NHL® Centennial Fan Arena at BMTSP
By TN Staff | October 16, 2017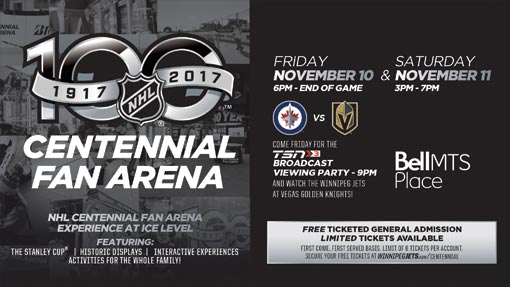 True North Sports + Entertainment and the Winnipeg Jets are pleased to host the NHL® Centennial Fan Arena Friday, November 10 and Saturday, November 11 at Bell MTS Place. The NHL® Centennial Fan Arena is a touring tribute to a century of hockey thrills that provides an interactive fan experience. As part of a tour that will visit all 31 NHL markets this season, the NHL® Centennial Fan Arena honours extraordinary players, teams, and unforgettable moments with an innovative museum, original video content, a first-of-its-kind virtual reality game, and the oldest and most revered trophy in sports – the Stanley Cup®.
Winnipeg's NHL® Centennial Fan Arena Schedule
Friday, November 10
6:00 p.m. doors open
9:00 p.m. TSN3 Broadcast Viewing Party – Winnipeg Jets at Vegas Golden Knights
Saturday, November 11
3:00 p.m. – 7:00 p.m.
Take in the history and excitement and then stay for the action as the Winnipeg Jets host their first-ever public viewing game party as part of the celebrations. Friday night, fans are invited to watch the Jets' first matchup vs. the Vegas Golden Knights at the TSN3 Broadcast Viewing Party.
The main attraction of this free family event is a 53-foot museum truck with an innovative interior featuring more than 1,000 square feet of interactive digital displays, original video content, historical memorabilia, and unique photo moments. A second 53-foot trailer will host a giant video screen featuring Winnipeg Jets trivia and highlights as well as a pop-out stage where Winnipeg Jets alumni will host autograph sessions throughout the day.
Compete with other fans across North America in a race to resurface the ice in a never-before-seen virtual reality game, Clear The Ice Zamboni® VR Experience. Virtual reality is taken to the next level as fans take a seat on the mini-Zamboni® ice resurfacer, feeling cool air on the skin and feeling their seat rumble as they race to create the perfect sheet of ice.
Of course, the crown jewel of hockey will also be on hand, giving fans a chance to get a photo with the one and only Stanley Cup®.
Kids are welcome to shoot the ball with Mick E. Moose in the pop-up ball hockey rink.
Fans are asked to help 'Recycle the Game' by bringing gently used hockey equipment along with them to the NHL® Centennial Fan Arena at Bell MTS Place. Helmets, elbow, shoulder, shin, and goalie pads, hockey pants, gloves, skates, sticks and goalie blockers/gloves are all gratefully accepted and will be donated to the True North Youth Foundation's Winnipeg Jets Hockey Academy. More than 3,000 lbs of equipment has been donated across North America through the Recycle the Game initiative. Following the NHL® Fan Centennial, the hockey net drop-box will be relocated to the Bell MTS Iceplex to allow fans continued opportunities to Recycle the Game.
The NHL's Hockey is for Everyone program is being brought to life by welcoming diverse populations to the NHL ®Centennial Fan Arena. The NHL is donating $155,000 across all 31 franchises to promote and foster inclusiveness and diversity in hockey and has awarded $5,000 to the True North Youth Foundation as the charitable cause of the Winnipeg Jets.
Bell MTS Place concessions will be open throughout the events.
Attendance at these events is free, but it is a ticketed event. Tickets are available by visiting winnipegjets.com/centennial (limit of eight (8) tickets per transaction).
The NHL® Centennial Fan Arena tour will make its way to all 31 NHL markets in 2017. Fans can learn more at nhl.com/FanArena and can join the conversation using the official hashtag #NHL100.
‹ Main News