Jets launch Jets Community Assist resource page at WinnipegJets.com
By Jason Friesen | April 27, 2020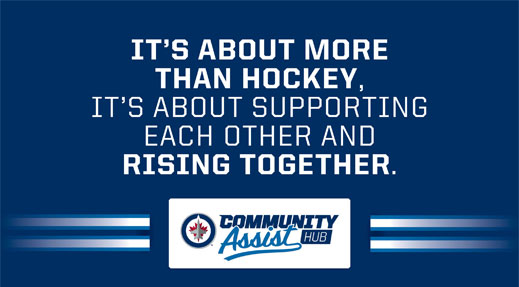 Community Assist page will offer resources from True North programming and corporate partners
Though Winnipeggers have become accustomed to the rally cries of RISE TOGETHER and WE ARE WINNIPEG as they cheer on the Jets in the Stanley Cup Playoffs, those tag lines are taking on a whole new meaning in our community this spring as we all do our part to stop the spread of COVID-19.
In response to the pandemic and the physical distancing measures that have accompanied it, the Winnipeg Jets have launched a Jets Community Assist online resource to both support fans and keep them up to date on everything the Winnipeg Jets, Manitoba Moose, their corporate partners, the City of Winnipeg and Province of Manitoba are doing to combat the spread of COVID-19.
The online resource page will offer a variety of resources to fans that will focus on donation, recognition, well-being, and entertainment.
"We are consistently striving to be a source of pride in our community, and providing resources to our community during this difficult time is a great way of continuing to do that in the midst of being unable to bring Winnipeggers together through concerts, events, and hockey games," said John Olfert, President and Chief Operating Officer for True North Sports + Entertainment. "Though we are missing the feeling of unity that concerts and #WPGWhiteout Street Parties bring, we recognize that we need to be more united now than ever as we battle COVID-19 together."
Many of the supports and resources that have become crucial during this time are resources that True North already employs. Mental health resources are available and include the True North Youth Foundation's Project 11 wellness intermission videos focusing on promoting an overall healthy lifestyle as well as the full P11 Mental Wellness virtual summit that aired earlier this year. Project 11 is already in over 1,400 school classrooms in Manitoba and has proven to be valuable with lessons and videos that touch on subjects such as anxiety, depression, and relationships.
Several programs from the Bell MTS Iceplex are available to assist fans with staying physically active. Free workout videos from Focus Fitness and hockey skills home training videos from Jets Hockey Development can show viewers how to stay active in the confines of their home, while still receiving professional instruction.
Winnipeg Jets and Manitoba Moose activity books for kids are also available, along with learning tools from the Future Goals program, an initiative run by the NHL Players' Association.
"We care deeply about our community, and particularly the health of our community, which is why programs like Project 11 and Focus Fitness are integral assets of our organization," said Dorian Morphy, Vice President of Marketing for True North. "The COVID-19 pandemic has emphasized those values, and we see it as a responsibility to use our platform as an NHL team to share those resources with our fans to support them in their well-being."
The resources won't serve only the fans themselves though. The Jets Community Assist page will allow fans to help others as well. Opportunities to donate to local organizations and charities that are in need of support will be available, and the Jets Season Seatholders All-Stars and Manitoba Moose COVID All-Stars social media initiatives, along with several corporate partner initiatives will give fans the chance to thank those who are making a difference in their community.
For those missing their hockey fix, the Jets Community Assist page will also ensure fans can stay engaged with content from both the Jets and Moose, including JetsTV videos, the Ground Control podcast, the latest news, the Jets Rewind schedule of rebroadcasted games, and videos of Jets and Moose players from home.
‹ Main News