Jets launch official NHL 19 Tournament
By Krista Sinaisky | December 21, 2018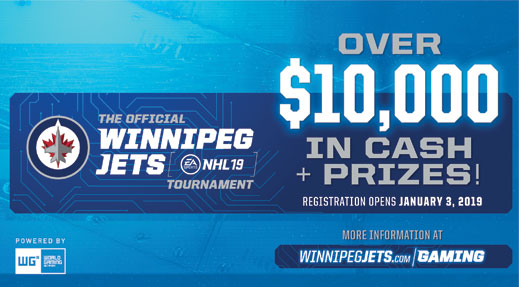 Top 'Chel gamers from across North America to compete for cash and prizes
NHL gamers will have the chance to face off as part of the official Winnipeg Jets NHL 19 Tournament, powered by WorldGaming Network which opens for registration on Jan. 3, 2019.
The tournament will test the 'Chel skills of players ages 14 and up from across North America who will compete for over $10,000 in cash and additional prizes throughout a multi-round tournament of online qualifiers taking place between Jan. 19 and Feb. 10, 2019. Players will be able to register via WorldGaming Network's Official Tournament Platform and enter the bracket for a chance to win.
The grand final will take place Feb. 18, 2019 at Bell MTS Place when the top player from each of the Xbox One and Playstation 4 platforms will compete to be crowned the official Winnipeg Jets NHL 19 Champion. The final best two of out three match will be streamed live on JetsTV and through the Jets' social platforms, including Twitch. Following the grand final, bragging rights will also be on the line as each finalist will be paired up with a Winnipeg Jets player to compete in a two-on-two "show match".
"Esports is an incredibly dynamic genre of sport and we are excited to launch our official tournament to engage with Jets fans and 'Chel gamers from across North America," said Andrew Wilkinson, Director of Digital for True North Sports + Entertainment. "We know how passionate the NHL gaming community is about hockey. In addition to crowning a tournament champion, this format will also provide gamers with the opportunity to partner with and play against our very own Jets players in a fun show match, bringing fans even closer to the game and players they love."
"This exciting launch is yet another example of the convergence between professional sports and esports," said Wim Stocks, General Manager and CEO of WorldGaming Network. "The whole team at WorldGaming Network is thrilled to support the Winnipeg Jets through powering this upcoming tournament. Our online platform and experience with the NHL community and the game itself is second to none, so fans can look forward to engaging players in a high quality and fun competition."
Following the launch of the 2018 NHL Gaming World Championship last season, the Winnipeg Jets are excited to be one of the first NHL teams to present their own official gaming tournament.
For more information on the official Winnipeg Jets NHL 19 Tournament, visit winnipegjets.com/gaming.
‹ Main News