Jets Legends presented by Bell MTS to air on select TSN Jets game broadcasts through remaining 2021 regular season
By TNSE Staff | March 29, 2021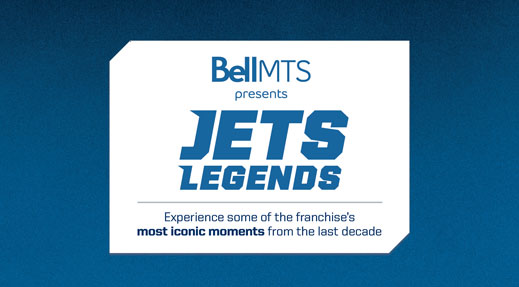 To celebrate their milestone 10th NHL season back in Winnipeg, the Winnipeg Jets will share some of the franchise's most iconic moments from the last decade with their fans through the Jets Legends series presented by Bell MTS.
The ten-episode series will be aired during intermissions of Jets game broadcasts on TSN (TSN3, online at TSN.ca and through the TSN app to TSN and TSN Direct subscribers in the Jets' designated broadcast region) throughout the remainder of the 2020-21 regular season. The first episode will air on tonight's broadcast of the game against the Calgary Flames, which starts at 9 p.m. CT.
The remainder of the episodes will be aired during the following game broadcasts:
Sunday, April 4 vs. Vancouver – 8 p.m. CT
Thursday, April 8 @ Montreal – 6 p.m. CT
Monday, April 12 @ Ottawa – 6 p.m. CT
Thursday, April 15 @ Toronto – 6 p.m. CT
Friday, April 23 vs. Toronto – 7 p.m. CT
Monday, April 26 vs. Edmonton – 8 p.m. CT
Friday, April 30 @ Montreal – 6 p.m. CT
Wednesday, May 5 @ Calgary – 8:30 p.m. CT
Friday, May 7 vs. Ottawa – 7 p.m. CT
*All dates subject to change due to TSN programming. Visit WinnipegJets.com to stay up to date.
Jets fans can look forward to reliving historic moments that cover the entire 10 years of Jets 2.0 history from the perspectives of the people that have been closest to the action, including Winnipeg Jets co-owners Mark Chipman and David Thomson, General Manager Kevin Cheveldayoff and Assistant General Manager Craig Heisinger, Head Coach Paul Maurice, Jets players and alumni, True North Sports + Entertainment executives, NHL executives including NHL Commissioner Gary Bettman, and more.
The Jets Legends series is a creation of Jets Productions, the same team that presents each game at Bell MTS Place, and is the result of months of extensive work and research, exploring archived content and conducting exclusive interviews. Each episode will offer fans a truly unique inside look into the franchise as never seen before.
Following each episode's debut on the Jets game broadcasts on TSN, the five-minute features will be shared via the Winnipeg Jets social media pages on Facebook, Instagram, and Twitter, as well as on the team's website at WinnipegJets.com/JETSTV.
‹ Main News