Jets making adjustments to entry process following opening pre-season game
By TNSE Staff | September 27, 2021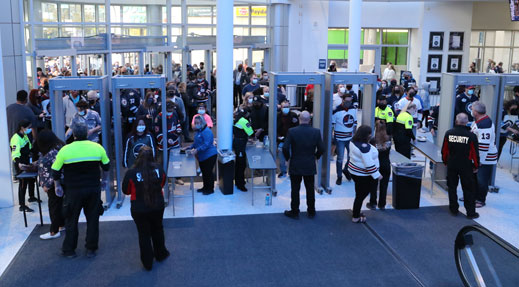 After 566 days of empty arena seats, a full crowd of Jets fans brought a welcome energy to Canada Life Centre. As we all adjust to a new normal and new protocols for attending live sports, True North Sports + Entertainment and the Winnipeg Jets are making adjustments to the entry process to ensure the guest experience improves with each game.
To reduce wait times to get into the arena, the gates at Canada Life Centre will open a half hour earlier than on Sunday, opening at 5:30 p.m. for Wednesday's 7 p.m. puck drop against the Edmonton Oilers and for the Oct. 6 matchup with the Calgary Flames, also at 7 p.m. Additional event staff will also be in place to help guests upon entry.
"We like to see people showing up early, wanting to be at the game well ahead of time to enjoy the experience, but we don't like to see people waiting in lines," said Kevin Donnelly, Sr. Vice President of Venues & Entertainment at True North. "We know we can do better, which is why we're opening the gates earlier, adjusting our staffing, and getting the word out about the entry process."
Fans are encouraged to arrive early with all documentation – including immunization card, QR code, or out-of-province immunization record, government-issued photo ID, and mobile ticket – ready to go upon arrival at the gates to expedite entry.
Guests are also asked to pack lightly for Jets games with a "no bag policy" in place at Canada Life Centre. The policy limits bags to a volume of 12" x 6" x 3", which allows small clutches and wallets, providing room for essential items. Larger bags that are deemed essential, such as childcare or medical bags, will also be allowed into the venue. People with essential oversized bags should enter at Gates 1 or 2 (Portage & Donald or Donald & Graham) for X-ray security screening.
"The policy is aligned with new NHL safety protocols, and we know that as guests become familiar with this new process, it will make entry and moving around at the game much simpler for everyone."
For those with oversized bags and with no other options for storage, an off-site bag check is available on the main level of Cityplace next to the CIBC in the old Liquor Mart location for $10 with proceeds going toward the True North Youth Foundation. If needed, small plastic or fabric (for privacy) cases will be provided for those who have essential items they need to bring into Canada Life Centre.
For additional information on Canada Life Centre's health and wellness policies, including what's needed to prepare for entry and more details on the no bag policy, please visit CanadaLifeCentre.ca/HEALTH-WELLNESS. If you are unsure about your bag, please email [email protected] for guidance.
The Winnipeg Jets' exciting pre-season includes two more home games, on Sept. 29 and Oct. 6, before the Oct. 21 All Systems Go Home Opener – visit WinnipegJets.com/TICKETS.
‹ Main News