Jets ready to rock n' roll at home
By Jason Friesen | October 9, 2019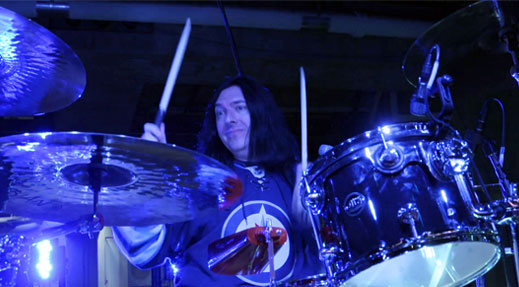 The Winnipeg Jets will be rocking and rolling their way onto home ice at Bell MTS Place when they host the Minnesota Wild at their home opener on Thursday, Oct. 10.
The home opener is always a special game featuring exciting player introductions and giving fans the chance to help welcome the new squad to the ice for the very first time to start a new season. This year, the game production team is taking it to the next level with a live rock n' roll performance from three Winnipeg-born rockers to bring even more energy to the player intros. Drummer Brent Fitz, who has shared the stage with the likes of Slash, Gene Simmons, Alice Cooper, and Theory of a Deadman; guitarist Derrick Gottfried of Harlequin; and bassist Chris Burke-Gaffney of The Pumps will rock Bell MTS Place as the entire 2019-20 roster is presented.
"Winnipeg's a rock n' roll town," said Kyle Balharry, Sr. Director of Game Production for the Jets. "We've done lots of different things for opening night – we've done some scrims before, we've done LED wands before, and there's always a music track in the background. We always spend a lot of time thinking about what that track is, but we said, 'let's do something different. Let's have a live band.'"
Not settling for just any band, Balharry pulled together three of Winnipeg's finest rockers, assembling what is nothing short of a local all-star lineup.
Though the homegrown talents will no doubt have fans out of their seats, it's got the men behind the instruments pumped up too.
"It's a lot of pressure because I've been a big Jets fan for 40 years," said Fitz. "For a few minutes, I'm part of the team. It's like a dream for a kid. I went to a lot of games in the old arena, I've been to many games (at Bell MTS Place), and I've played this arena musically. So this is like a perfect 'coming home'.
"This is the next best thing to jumping on the ice with the players."
The high-flying action of hockey and the heavy-hitting beats of rock n' roll music have always made for a good pairing, and with all three musicians being big Jets fans, this performance will truly be a unique way to combine these two passions.
"We're super excited because we're hockey fans and so we get to do what we love, which is play rock n' roll, and we get to do it in the hockey environment at the same time," said Burke-Gaffney. "You can't beat it."
"When you're a kid, and you're growing up in Winnipeg, you know the winters are long," said Gottfried. "Rock n' roll and hockey is what we did. We're lucky to do our two favourite things on Thursday night."
Of course pulling together three rockers and turning it into a thrilling home opening act doesn't happen overnight. There are hours of planning just to get the idea off the ground and many emails and phone calls back and forth between the production team and the musicians to line up schedules. Rehearsal time is also crucial to run over the music and how it will tie into the player introductions, and with a busy Bell MTS Place schedule, it's no small feat to find time to do that.
Balharry knows that the hours spent on putting this home opener show together will be well worthwhile for both his production team and the fans. And with the production team putting so much effort into every home game, it makes the live hockey experience in Winnipeg something that can't be replicated.
"Maybe you get a little smile on your face when you're watching in your living room, but there's nothing better than being around 15,000 people all pulling for the same thing. You've got all of the excitement of everybody pulling on that same rope. The best thing about live sports is that you can be there for any moment that happens, whether it's a big goal, an exciting fan moment, a memorable thing that might make you cry. Oftentimes the things that you don't see on TV are those special moments in TV timeouts and the intermissions or honouring someone after a whistle; they're things that TV doesn't pick up on. There's just so much going on."
Don't miss out on those special live moments – great seats are always released on gamedays at WinnipegJets.com/TICKETS.
‹ Main News