Jets-themed adaptive bike has Winnipeg boy riding in style
By TN Staff | August 10, 2018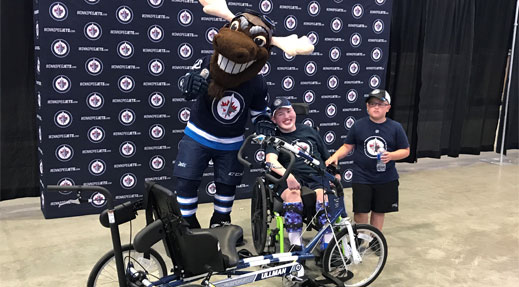 Skate blades on ice is a common sight at Bell MTS Place. Bike tires on the cement floor of the arena, however, is far less common.
This week was an exception, as on Tuesday, Mick E. Moose rode in on a brand new, Jets-themed adaptive bike, much to the surprise of recipient Quintin Ullman. After being presented with the bike from Freedom Concepts, a Winnipeg-based company that designs special needs bicycles and mobility devices, it was Quintin's turn to take the handlebars and rip around the Bell MTS Place floor on his brand new bike.
Quintin, who has cerebral palsy, made his excitement obvious when he was asked about his favourite part of the bike.
"Everything is my favourite part of the bike."
And why was the Jets paint job so special? Well, that's simple according to Quintin.
"Because it's the Jets."
The project came about when Quintin's physical therapist at his school had recommended that he get a bike.
"She's the one that started it all," said Corinne Ullman, Quintin's mother. "She got a hold of (the Cerebral Palsy Association of Manitoba), and then she got a hold of Freedom Concepts."
Ken Vanstraelen, founder of Freedom Concepts, and his team took it from there.
"Quintin had a desire to have a Jets bike, and from there our marketing team approached (the Jets)," said Vanstraelen. "Then the Cerebral Palsy Association stepped up to help with the funding, and here we have it today, a full-on Jets bike."
The Jets decals were merely the finishing touch, however. The specialty bike with customized pedals, handlebars, and seat, is all designed so that Quintin, who is normally confined to a wheelchair, needs no assistance in powering the bike.
"We have a specialty seating system there to help him and aid him as he has zero trunk control," said Vanstraelen. "You and I would be able to sit up on a bicycle ourselves, he needs some special adaptions for that. And then the gear ratios are adjusted so he can pedal it on his own."
Quintin's family couldn't be happier about the independence the bike will bring for him.
"He had (a bike) when he was younger, but he outgrew it so he hasn't been able to do that," said Corinne. "And then he had other physical issues that made him unable to ride until now.
"It's exciting and emotional. He's always sort of wheelchair bound and he can't really go anywhere on his own. Having this makes him a little bit more free to do what he wants to do."
The bike gives Quintin a lot more than freedom though. Vanstraelen noted there are many physical benefits, including cardiovascular strength and body positioning.
"You can see (Quintin) tends to lean more to the right side, so now as he rides he tends to straighten himself up a little more so his body positioning gets better."
Corinne knows the physical benefits too, so hearing that her son was going to get a bike to keep him healthy was thrilling news.
"I was so excited because it is something that he needs to be able to do," said Corinne. "It's good for his health, and it's good for his legs. He's got a heart defect, so it's good to get him up and moving. He gets no exercise, so that's the best thing for him."
Quintin may have been the most thrilled with his new bike, but bike presentations are always a highlight for the Freedom Concepts employees too.
"The smiles on the kids' faces never get old," said Vanstraelen. "This is always the fun part for sure. A lot of hours go into it beforehand, but this is always worth it."
Above all, Quintin and his family were very grateful to Freedom Concepts, and the Cerebral Palsy Association of Manitoba for making this all possible.
"I just hope other people love this bike," said Quintin.
No doubt they will. Definitely because it gives Quintin an opportunity he might not otherwise have. And maybe, as Quintin noted about the paint job, because it's the Jets.
By Jason Friesen
‹ Main News