Jets to host virtual panel celebrating females in sport as part of NHL's GEM
By Krista Sinaisky | March 8, 2021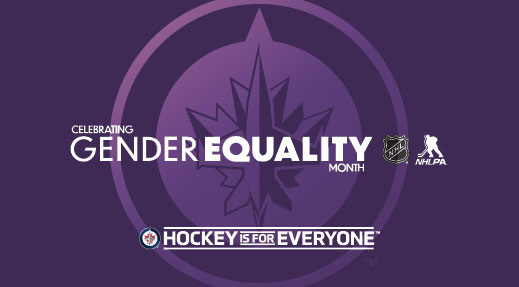 The Winnipeg Jets and Manitoba Moose will celebrate Gender Equality Month (GME) throughout March by sharing stories of successful women in the fields of sports and business in our community.
The campaign will be highlighted by the Winnipeg Jets Women in Hockey Panel "Changing the Game", which will showcase a diverse array of women speaking about how they have created a career in sports and how they are now playing key roles in shaping the current and future of hockey. Panelists include Steinunn Parsons, Vice President, Guest Experience, True North Sports + Entertainment; Jennifer Botterill, three-time Olympic hockey gold medalist, speaker and broadcaster; and Sarah Zacharias, Head Coach and Director of Hockey at Balmoral Hall School. The panel will be moderated by True North's Annie Chipman, Marketing Manager for the Manitoba Moose and University of North Dakota hockey alumnus. The panel is geared to women, not just in sports, but from all sectors and at any stage of education or career with insights meant to inform, inspire and encourage future female success.
The virtual panel will stream Thursday, March 25. Participants can register at WinnipegJets.com/GenderEquality for this free event and will have the chance to submit questions for the panelists as part of the registration process. All registrants will be entered to win one of two Winnipeg Jets Aviator jerseys.
The women driving Manitoba Moose hockey will also be showcased through a virtual discussion to be launched on Moose social channels. Annie Chipman, Talia Gallant, Raquel Payne and Jennifer Redenbach, who represent marketing, sales, community relations, and communications for the Manitoba Moose, will discuss how they got into the industry and the important roles they play in supporting club and business operations. Stay tuned to the @ManitobaMoose on Twitter and Facebook for this and other Gender Equality content throughout March.
Follow Jets social channels – @NHLJets on Twitter and Facebook – throughout the month for more content celebrating women who are making an impact on and off the ice in our community.
The NHL's Gender Equality Month celebrates women who make hockey happen every day and, as part of the larger Hockey is for Everyone initiative, works to drive positive social change and foster more inclusive communities. Learn more at NHL.com/genderequality.
For more information on True North's Changing the Game panel and Gender Equality initiative, please visit WinnipegJets.com/GenderEquality.
‹ Main News