Katie Ferniuk proves that work ethic leads to trust in Jets hockey operations
By Jason Friesen | March 20, 2023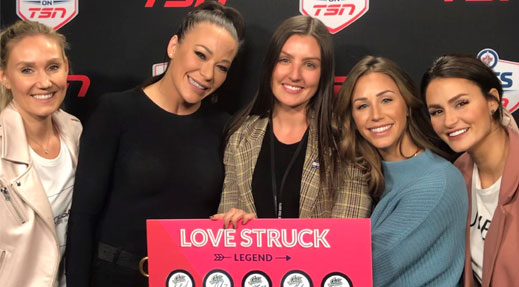 In hockey, as in any sport, skills are the foundation for success. The harder you shoot, the faster you skate, and the more accurate your passing is, the more likely you are to excel in the game.
The same can be said for hockey operations employees that take care of the behind-the-scenes tasks to help the team function – only that a different set of skills are required to succeed.
For Katie Ferniuk, Manager of Hockey Administration & Family Relations for the Winnipeg Jets, skills like organization, a can-do attitude, and people skills are what matter for thriving in her role.
Ferniuk's role sees her manage everything from administrative tasks for the Jets hockey operations department, to looking after NHL and AHL contracts, arranging immigration, relocation and housing for players, organizing the emergency backup goaltender program for home Jets games, and many more tasks the Jets management team might need taken care of.
On the family relations side of her job, she provides support for the partners of all the Jets and Moose players, the general managers and coaches.
"That includes everything from creating a welcome book that we send out at the start of the year, planning a welcome lunch, organizing fundraisers, and basically being the point of contact for the families," said Ferniuk. "For new families, imagine coming to a new city and you don't know anyone and you don't know where anything is. Obviously, they make connections with the other families and partners from the team pretty quickly, but it's nice to have a contact that you can send your questions to. I'm that person for them."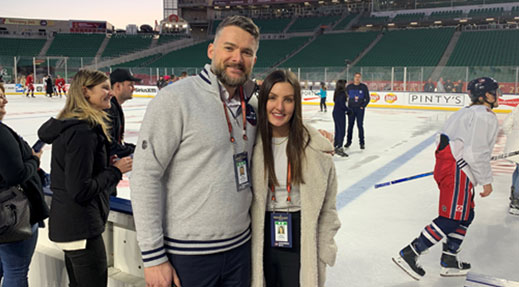 On top of all that, she plays an important role in planning special events with the hockey team, whether that's celebrations surrounding a player's 1000th game, hosting the Jets suite at the NHL Draft each year where drafted players and their families get to meet members of the organization, or coordinating a variety of details for events like the Global Series or NHL Heritage Classics that the team has participated in. Even the office she sits in is a product of her work, as she played the role of project manager for renovations done to the Jets hockey operations offices.
"I like that most days are different, and it's a fast-paced environment," Ferniuk said. "I like getting the odd curveball thrown at me, and that happens pretty often. It keeps you on your toes."
With such a long list of duties, it's obvious how dedicated and hard working Ferniuk needs to be, and how organization is absolutely critical for her.
"You can't really forget about things," she noted of her day-to-day tasks. "They don't go away if you forget about them – usually they just blow up in your face."
The other thing that such varied work requires of Ferniuk is the ability to work with a variety of people regularly, from management, to coaches, co-workers, players, and players' families.
Ferniuk's ability to juggle all of her responsibilities while also being comfortable working with anyone has impressed Jets Sr. Vice President & Director of Hockey Ops/Asst. General Manager Craig Heisinger over the years.
"Her people skills are second to none. She can deal with dozens of different personalities and moods on a daily basis," Heisinger noted. "Her work ethic and availability are phenomenal too. She puts in long hours, as do the rest of us on the hockey ops team. At the end of the day, she's earned everyone's respect based on her work ethic."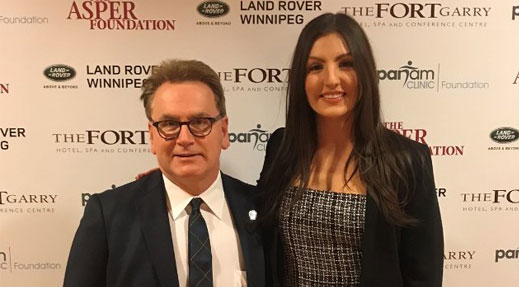 And that's exactly the way it should be. The NHL's Hockey is for Everyone platform promotes supporting any teammate, coach or fan who brings heart, energy and passion to the rink, and it's clear that's the case in the Jets' front office too. In the same way that management bases their evaluations of players on the skills they possess, they base their assessment of their employees on the abilities they bring to the workplace.
"I've been able to build good relationships here, and I think that's just from putting in hard work and lots of hours into building that trust," said Ferniuk. "With that trust comes more responsibility, but it takes time."
What that time has shown Heisinger and the Jets management team is that they have an all-star in Ferniuk.
"She's a rarity, and she's a gem," said Heisinger. "She brings a lot to the table."
‹ Main News