Let Loose during the 2018 Calder Cup Playoffs
By Krista Sinaisky | April 19, 2018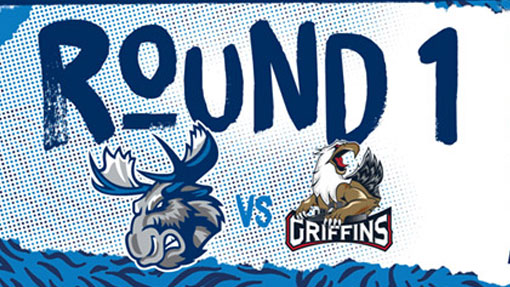 The AHL Calder Cup Playoffs are coming to Bell MTS Place, with the first two matchups of the best-of-five series taking place this weekend as the Manitoba Moose take on their long-time rivals, the Grand Rapids Griffins, at 2 p.m. CT on both Saturday and Sunday, April 21 and 22.
Fans can "Let Loose" in the fun family atmosphere, where playoff tickets remain an incredible value for a family or group event. Starting at just $23 (plus fees) for the first round of playoffs, Moose games are the perfect all-around entertainment event for everyone from hardcore hockey fans to students, families, teams, clubs, and organizations.
Manitoba Moose playoff games provide an opportunity to catch Winnipeg Jets prospects on their way to becoming the next wave of NHL stars in a fast-paced AHL playoff atmosphere. This season, nine players have spent time with both the Moose and the Jets, and the on-ice success the Moose had in the regular season did not go unnoticed by the league.
This season's accolades include Winnipeg Jets draft pick, Sami Niku being named the AHL's Most Outstanding Defenseman and being named to the AHL's First All-Star Team; Winnipeg Jets draft pick, Mason Appleton being named AHL Rookie of the Year and being named to the AHL's First All-Star Team; Michael Hutchinson being named to the AHL's Second All-Star Team; and Head Coach, Pascal Vincent, being named the AHL's Coach of the Year.
The Calder Cup has a rich 81-year history of teams vying for its coveted honour with its winners including Hockey Hall of Famers as well as Stanley Cup champions.
On three occasions, an AHL club and its NHL affiliate won their league championships in the same year with teams reaching both the Calder Cup and Stanley Cup finals on two other occasions.
Tickets for Game 1 and Game 2 of the Central Division Semi-Final series between the Moose and Griffins are on sale now at moosehockey.com/tickets.
Be sure to arrive early to be one of the first 5,000 fans to receive playoff clappers to help cheer on the home team on April 21.
First-time fans can learn more about the excitement of the Manitoba Moose family atmosphere with our 10 Tips guide by clicking HERE.
‹ Main News