Meet True North's Canine Ambassadors
By Krista Sinaisky | October 31, 2017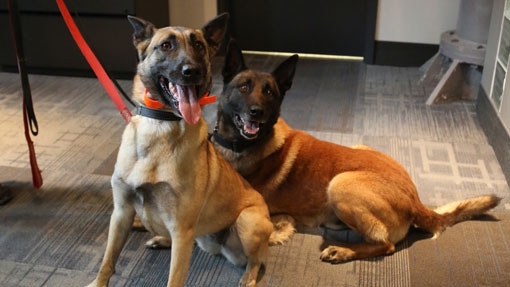 Help us name one of our new puppies!
True North Sports + Entertainment has recently drafted some furry faces, and we're not talking about players with playoff beards!
As part of True North's commitment to providing a safe and enjoyable experience for all Bell MTS Place patrons, we have introduced an in-house security dog team (Explosive Ordnance Disposal dogs, or EOD) this season as part of the overall security service we provide at all True North venues and events.
"True North has worked with the Winnipeg Police Service and its canine unit on an event by event basis since Bell MTS Place opened. Introducing our own in-house security dog team was a natural next step and something that we have been planning for as part of the evolution and strengthening of our security services and protocols," said Rob Wozny, vice president of communications and community engagement. "Having our own security dog team gives us the flexibility to provide the best security services to our patrons as well as meet the security requirements of the NHL and event promoters."
Led by handler and trainer Dave Bessason, former Winnipeg Police Services canine officer, adult Belgian Malinoises Dante and Daisy have already been hard at work at NHL games and entertainment events this season.
"Dante and Daisy have enjoyed getting to know fans since the hockey season began," said Bessason. "Bell MTS Place patrons have welcomed them as True North canine ambassadors and the dogs love interacting with crowd."
New recruits are eight-week-old black Labrador Retrievers, Grace, Ryp and an as-yet unnamed puppy, whom we are inviting our fans to help name. The puppies began their training at the tender age of six weeks. Grace will spend most of her time at True North's offices and at Bell MTS Place during events, while her brothers will join Dante and Daisy on event patrol with Bessason.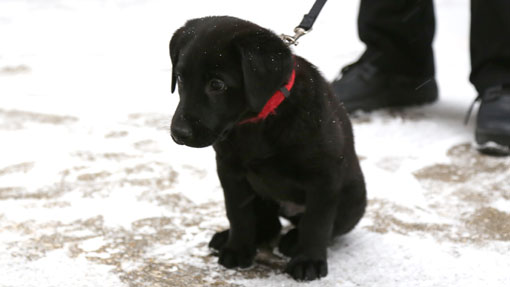 Grace is named in memory of Gord Downie and his Tragically Hip anthem, Grace, Too. Ryp is named after the late Manitoba Moose player Rick Rypien, who was also the inspiration behind the True North Youth Foundation's Project 11. The third puppy, a male, needs a name that matches his personality.
"This little guy possesses all the traits necessary for being a high-performing detector dog," said Bessason. "Like his brother and sister, he was hand-picked for his fearlessness, responsiveness, and investigative nature as well as for being friendly and full of energy."
Winnipeg Jets season seat holders will have the chance to submit their name suggestions, from which a selection of four final names will be made. The final four names will be announced Monday, Nov. 6 at noon and all fans will have the opportunity to vote for their favourite until Wednesday, Nov. 8 at 11:59 p.m. More details will be announced Mon. Nov. 6.
The winning name will be announced Friday, Nov. 10 at the Winnipeg Jets NHL Centennial Fan Arena. (FREE tickets are still available to take part in this special celebration of 100 years of NHL hockey and watch the first-ever TSN3 Broadcast Viewing Party, featuring the Winnipeg Jets at the Vegas Golden Knights at Bell MTS Place.)
‹ Main News