New partner a game changer for Fannex
By Krista Sinaisky | March 6, 2018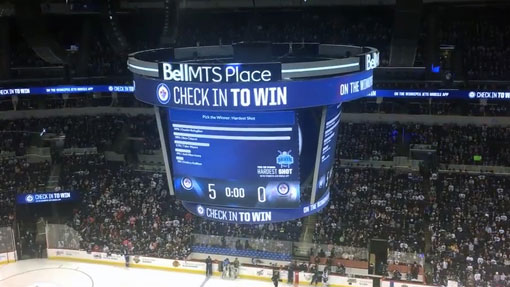 One platform, hundreds of events, thousands of smart phones.
Emotion Media Inc. is proud to announce an exciting new partnership with True North Sports + Entertainment and an expanded partnership with IC Group LP that will strengthen the ongoing development and next-phase growth strategy for the developer's flagship product, Fannex.
A mobile entertainment system, Fannex interactively engages and entertains fans with smart phones as a part of the sport, concert and other entertainment event production experience. As a powerful multimedia engagement tool, Fannex empowers game day producers to entertain and connect with thousands of fans, compelling them to adopt and loyally engage with brands showcased by the team.
True North Sports + Entertainment, owners of the Winnipeg Jets (NHL) and the Manitoba Moose (AHL), along with one of the busiest arenas in North America, Bell MTS Place, provides Fannex developers invaluable fan engagement insight and in-game production best practices from 20-plus years in the sports and entertainment industry. "True North's investment in Fannex is prompted by a common purpose to enhance the fan experience, offering venues another tool to add to live entertainment, and provide additional inventory for sponsors to engage passionate fans of teams and performers," said John Olfert, Chief Operating Officer, True North Sports + Entertainment.
IC Group LP, also proudly from Winnipeg, has expanded its investment and will continue to bring invaluable strategies and insights to Fannex as it evolves the live fan experience. IC Group LP is a world leader in digital reward, loyalty, promotion and social auto response bot solutions with an impressive array of the world's biggest brands as clients. "With its proven track record and an established leadership group, we're thrilled with True North's partnership with Fannex. We've already seen encouraging demand for the Fannex solution and envisage a big future ahead. Having an investor as driven and dedicated to the fan experience as True North will play a big role in realizing the goals we have for Fannex," said Marc Caron, Chief Information Officer of IC Group LP.
Over a dozen teams across North America have already licensed, deployed and benefited from the Fannex experience, and have gained real time information on fans' participation and preferences to all stakeholders. Some of the teams using Fannex today include the Calgary Flames (NHL), University of North Dakota Fighting Hawks (NCAA), Manitoba Moose (AHL), and the Winnipeg Jets (NHL), with a number of other professional sports and entertainment organizations committed to come onboard in 2018. Fannex has already been activated in over 700 live events, representing over one million venue patrons who have interacted with the platform. Most recently, Fannex was utilized at the AHL's All-Star game in Utica, New York.
See how Fannex works:  https://youtu.be/uijABHwPwGU
Fannex works by offering event operators the same control over the in-arena mobile experience that they are accustomed to with existing digital tools (centrehung scoreclock, power-ring, and content management system) via the Fannex platform. Fannex can serve as the platform for the team, venue or event app, or Fannex can be embedded in an existing app. At a game, fans download or open the team app and within seconds they're connected to fun and interactive games that allow thousands of fans to engage with trivia, contests, games and promotions customized by the team and sponsors. As fans engage in the activities on their phones, Fannex is collecting valuable data and establishing authentic connections to the team's promoted brands.
Based in Winnipeg since 2012, Fannex developer, Emotion Media Inc. developed the system to create a new engagement solution for live sports and entertainment events and sponsors preferring to engage with audiences rather than just display their products and services through traditional advertising. "Companies that invest in sports and entertainment sponsorship and advertising opportunities are demanding more return on their investments (ROI)," says Kemal Leslie, President and Founder at Emotion Media Inc. "Fannex is customizable to the venue's sponsorship objectives with simple execution that's easy to use for the fans and the venue's producers. The feedback and data collected is immediate, accessible and enormously valuable to sponsors."
‹ Main News