A New Provincial Look for the Burt
By Krista Sinaisky | September 26, 2017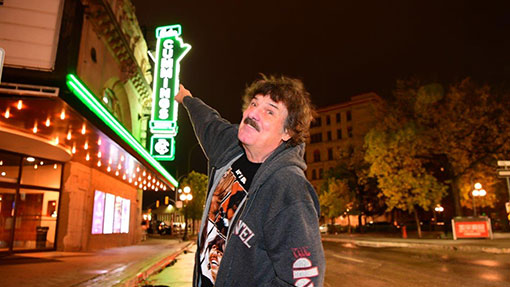 The new marquee at the Burton Cummings Theatre was illuminated for the first time Friday evening and Cummings himself took a moment to check it out just before he hit the stage for the first of two sold-out concerts at his namesake theatre.
Installed just in time to greet Cummings and his adoring fans, the new marquee was not the only thing glowing. In a Facebook post Cummings tried to put into words what was an overwhelming feeling to see his name in those lights for the first time. "…this new sign really got me choked up…I'm more than grateful," he posted.
The new marquee proudly celebrates the extended naming rights of the theatre to 2032 and the Burt's continued relationship with one of Winnipeg's favourite sons. Its design pays homage to the theatre's history by maintaining elements of marquees past and also brings a new look that represents the theatre's significance to our province, as well as its bright future as a premier venue for live entertainment.
"The lighting of the new marquee was a defining moment for the very bright future of the Burt," said Kevin Donnelly, True North Sports + Entertainment senior vice-president, venues and entertainment. "Although it has been a long wait, the timing couldn't have been better to honour Burton's affiliation with the theatre as well as his role in making some of these enhancements possible."
Over the past four years, True North Sports + Entertainment has invested more than $1 million in enhancements to the theatre that also include air condition, new seating, flooring, lighting and supporting infrastructure. Cummings' Sept. 22 and 23 Homegrown performances were held in support of the ongoing enhancements at the Burt. True North maintains its commitment to reinvestment into the facility, to first-class entertainment and to the patron experience and Cummings joins True North in this commitment, with the promise to perform at least two more shows with proceeds going towards the ongoing rejuvenation of the Burt.
The Burt's ticket sales for the first half of 2017 earned the theatre a debut in the top 100 rankings of Pollstar's (a leading industry trade magazine for promoters, concerts and events) mid-year list for worldwide theatre ticket sales (#92 among worldwide venues and #79 among North American venues) and put the Burt on the map as a world-class venue for both patrons and performers.
An impressive entertainment lineup continues into 2018 and includes something for every age and interest with acts like Chris Hadfield, Jane Goodall, Yanni, Let it Be: A Celebration of the music of the Beatles, Ron James, The Northern Pikes, Barenaked Ladies, and Peppa Pig, as well as the recently announced interactive Halloween experience, Stage Frights – A Haunted House Experience. Click HERE for more information on the Burt's exciting playbill.
Photo credit: Dan Harper
‹ Main News