Out There Winnipeg provides a place for LGBT2SQ+ community to be self and enjoy sports
By Jason Friesen | June 26, 2020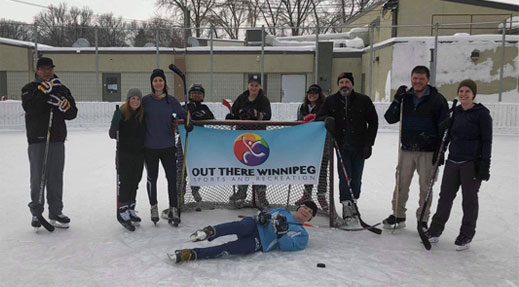 One of the greatest things about hockey is that it's a team sport. Though teams can have their challenges and differences, playing a sport where players stand up for each other and form a community bond is a highlight for many athletes.
It's that team bond mentality that drives Out There Winnipeg – a sports and recreation organization that brings together the LGBT2SQ+ community to participate in various sports together. The program is about much more than playing sports of course – it's about creating a community of support.
Robert Gosselin, 50, is an avid athlete and became involved with Out There Winnipeg through its running program six years ago. For the last three years, he's been organizing the Out There hockey program. He's very thankful for the supporting community of Out There Winnipeg, not only because it offers him an opportunity to play sports and make new friends, but it's a place where he can be himself – something he didn't have growing up.
Gosselin describes the first 12 years of his life like a stereotypical sports-loving Winnipeg kid would. He loved playing all sports but loved hockey the most. His dad had Winnipeg Jets season tickets and he reaped the benefits of less venue security back then by finding his way down to areas where players would walk by and sign autographs for him.
As Gosselin hit puberty and his teenage years, things changed. He became aware that he was attracted to the same sex, which at first made him scared and angry. Gosselin notes that it was a very different time to be a teenager in the 80s. Those years consisted of a battle within himself over his identity, which effected all parts of his life.
Growing up, Gosselin said his parents never swore or used derogatory terms. He added, "but in the rest of the world, you hear these things. Especially as a kid playing sports, inappropriate words were used quite often back in those days. As a young person, you start to believe that you must be a horrible person. That's where a lot of my self-hatred came from.
"If you are a person who is 'straight', imagine feeling like you aren't allowed to be 'straight'. You have to pretend to be gay. What kind of existence would that be for you? That's how I felt growing up, but that wasn't truly living."
Though Gosselin was in a battle with himself, making friends with other people never seemed to be an issue. In fact, he often made friends with the tough guys on his sports teams or at school as a self-protection mechanism.
"People left me alone for the most part, though I think they suspected that I was gay," said Gosselin. "I'm sure people said things behind my back, but nobody that I knew ever said anything to my face.
"The things that I did hear tended not to be from my peers, but from parents or coaches unfortunately."
Ultimately, Gosselin felt that he couldn't be his true self, and he knew he wasn't living an honest life. Sports – particularly hockey – offered him an escape from all of it, but it still wasn't a place that he could truly be himself.
At around the age of 19, Gosselin had become comfortable enough with himself to tell people that he was gay. When he told his parents, they showed nothing but support for him.
"My father said to me, 'I'm sorry that you had to live your high school years with your true self hidden. It must have been awful.'"
The support from his parents was certainly a comfort to him and helped Gosselin on the road to being at peace with who he is. At the hockey rink, among other places, he still felt that he had to let people get to know him before he told them about his sexual orientation.
"I always made friends playing hockey, but I had to learn to keep my mouth shut about my orientation," said Gosselin. "I let guys get to know me first, then when I felt it was safe to do so, I could tell them that I was gay."
By the time he let those friends know, Gosselin said it did not matter to most of them what his orientation was, and his sharing even helped to grow their friendships. In turn, those friends have shared their own struggles.
"As I got to know guys playing hockey, they might be straight, but they still had problems like me, just a different batch. Hockey can seem like a clique at times, and if you don't feel like you fit in, whether you're straight or gay, it can be tough on you."
Despite the relationships he's formed and the support he has felt, Gosselin noted that there is work to be done. In a more accepting world, he wouldn't feel like he has to wait to tell anybody that he is gay and could be upfront about who he is from the start. That is something that society in general needs to improve upon, and Gosselin notes that the sporting community, in particular, needs to work at this too.
The NHL's You Can Play and Hockey is for Everyone initiatives certainly aim to work at that. Gosselin noted the work of certain hockey figures, such as Brian Burke whose late son had come out as gay to the hockey world shortly before his passing, are a sign of hope for him.
"Burke has always been an outspoken guy but he reminded me of my dad in what he said when his son came out," said Gosselin. "He said things along the lines of, 'This is my kid and I love my kid no matter what'. He acknowledged that he had said things in the past that were not right, and he owned up to it. His experience changed him, and I totally respect that."
It's that kind of forward progress that matters to Gosselin. He knows that people have made mistakes, and that he also isn't perfect. He knows we have come a long way and that there is still a long way to go on the road to full acceptance both in society and in hockey. For Gosselin, the important thing is to keep moving forward and he hopes to play a role in that with Out There Winnipeg.
"Our hockey program is for anybody who is LGBTQ, or anyone who needs a safe place to learn how to play hockey or skate and meet new people in the community. Eventually though, the goal would be not to need a program like this," said Gosselin, pointing to the ultimate goal that all sports programs and areas of society would one day be a place where everybody can comfortably be themselves.
For now, he'll continue to try to offer help to others who may be struggling with their identity or orientation, and to give members of the LGBT2SQ+ a place to gather and just enjoy the game of hockey together.
"I've been able to change over time and been able to accept myself and feel comfortable with myself. That's made things much easier for me in all aspects of my life. I no longer walk into a rink feeling scared of what others might think of me. I don't care and I don't play or live my life for them. Life is too short for that."
To learn more about Out There Winnipeg, please visit outtherewinnipeg.ca. For anyone looking to get involved with Out There Winnipeg or wanting to reach out to one of the organizers, please visit outtherewinnipeg.ca/contactus.
‹ Main News