P11 Summit expands in wake of growing school program
By Jason Friesen | February 1, 2019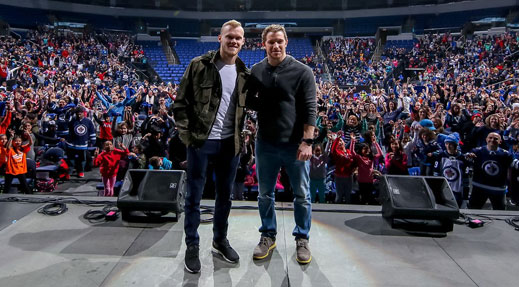 This year marked the second Project 11 Mental Wellness Summit. Though last year's Summit was a big success, the event hadn't hit its peak. The initiative that celebrates the success of the Project 11 program and gives its messages and speakers wider exposure expanded this year from the Burton Cummings Theatre to Bell MTS Place to accommodate even more students. Although extreme temperatures kept some of the expected 4,100 students from 74 participating Project 11 schools from attending as planned, a warm and inviting atmosphere welcomed the 3,000 students who did make it.
"Because we're in 30,000 students' classrooms, we have many requests of students asking if we can come visit their classroom, or if one of our Jets ambassadors or Manitoba Moose ambassadors can pay a visit," said Suzi Friesen, Director of Educational Programs at the True North Youth Foundation (TNYF). "Unfortunately it's pretty tricky, being in so many places. But we're so excited that we can FaceTime some classes and we've been in all their virtual lessons and videos. And now in this event, we get to bring everybody to us, and celebrate together all in one place."
The Summit presented students with a chance to bring their learning with the Project 11 school program outside the classroom, bringing a sense of community to the mental health issues they have been discussing. With so many students participating in the program province-wide, the message that nobody is alone in the struggle against mental illness, is becoming clearer.
"When you can get a group of this size and have their attention and hear a pin drop when certain people are speaking, that means that mental illness is a fact in their life at whatever age they're at," noted Craig Heisinger, Senior Vice President & Director, Hockey Operations/Assistant General Manager with True North Sports + Entertainment. "A wellness-based fun program for kids has certainly impacted the schools in the province of Manitoba."
The half-day event made an impact as well. The students were treated to seeing Winnipeg Jets forwards Bryan Little and Nikolaj Ehlers take the stage with TSN's Sara Orlesky for a Q & A, followed by Heisinger sharing the story of Rick Rypien, and how Project 11 came to be. Manitoba Moose Head Coach Pascal Vincent and Jets alumnus and current Moose operations personnel Mark Stuart also addressed the students before Bailey Bram and Desiree Scott, both Olympic athletes from Manitoba, added to the local flavour of the afternoon. The lineup of speakers also included professional golfer Andrew Jensen, Family Channel host Deepa Prashad, local life coach, author and musician Keith Macpherson, and professional fan Cameron Hughes. With musical acts from Bea Jaime, Rob Nash, and Garrett Neiles, the arena was full of energy all day.
And though the day gave students a break from school, it also aimed to teach them how to give themselves a break when they need it. That's something that John W. Gunn Middle School student Kylie Cocks-Loder can identify with.
"There are tests, there are friendships, there is always the stress of the day, or even what you have to do when you get home if you have a busy schedule," said Cocks-Loder. "So (mental health is) a good thing to think about."
Teachers agree that mental health has been a good thing to talk about with their students, and they plan to keep doing it long after the Project 11 Summit is over.
"Even in our own classroom community, when we're talking about being grateful for each other, and about our own strengths in our own character, it brings our classroom community together," said Chelsea Doerksen, a Grade 4 teacher at Bertrun E. Glavin School. "I've seen a lot of growth just building friendships and trust in the class. We talk about a lot of hard issues, and during Project 11 time in the classroom, students feel comfortable sharing more with their classmates than they would have before we started the program."
‹ Main News