Player interviews, on-ice sessions, prizes, alumni autographs and NHL Street are all part of the return of Winnipeg Jets Fan Fest to Bell MTS Iceplex Sept. 24
By TN Staff | August 31, 2022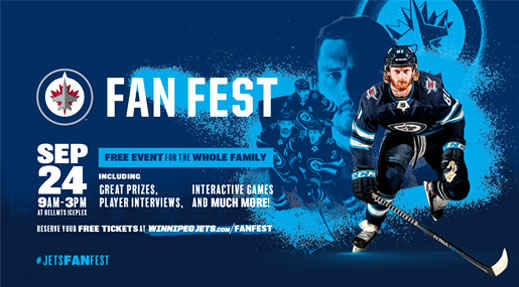 event mainstage. There will be fun and games for all ages inside and outside the venue, including the introduction of NHL Street, the premiere youth ball hockey experience in North America. Jet Dogs will be available for purchase along with food and beverages from the Press Box Restaurant and other fan-favourite food trucks. The event runs from 9 a.m. to 3 p.m., with free parking in the adjacent Assiniboia Downs lot.
Free mobile tickets will be required to enter Fan Fest and will be available starting on Tuesday, Sept. 6 at WinnipegJets.com/FanFest. A limit of eight tickets will be allowed per order.
New for this year, NHL Street presented by Tim Hortons, brings a full street hockey arena setup to the event. Gameplay takes place on foot and does not require any experience in skating or ice hockey. Equipment is provided, giving all attending youth the chance to participate. Advance registration is not required but is available along with more information at nhlstreetevents.com.
Fan favourite activities will be back, including inflatable activities for kids, the opportunity to shoot on Mick E. Moose in the Ice Lab (ages 10 and under), Royal Canadian Armed Forces vehicles and activations, programming from Focus Fitness and Jets Hockey Development, and the video gaming lounge where fans can play NHL 22.
The Fan Fest main stage will feature live Q & A sessions with Jets and Moose players, coaches and management, special guests, True North Youth Foundation programming, and the unveiling of the new Jets WASAC (Winnipeg Aboriginal Sport Achievement Centre). Former players Eric Fehr and Adam Pardy and other Jets alumni will also participate in a Q & A and be on hand for autograph sessions.
Fans will get their first look at players during two on-ice training camp sessions at 10 a.m. and noon. As seating is limited, tickets do not guarantee spots in these sessions, and fans are encouraged to begin lining up for the on-ice sessions after 9 a.m. for first-come, first-served seating. Fans who do not get into the first session can line up for the second session.
Jets Gear will be on site with a selection of Jets and Moose merchandise at discounted prices, including a large selection of game-used jerseys and equipment.
For more information on Winnipeg Jets Fan Fest, visit WinnipegJets.com/FanFest.
‹ Main News