Pre-Flight Production with the Winnipeg Jets
By TN Staff | October 10, 2018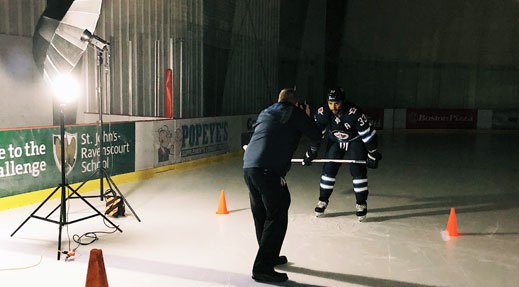 Bell MTS Iceplex looked like a Hollywood set for this year's two media production days on Sept. 11 and 12. With an early morning start, Winnipeg Jets players went from station to station on a production circuit taking headshots, intro videos, and stylized shots for marketing and Jets Gear promotions.
Although usually a bustle with hockey activity at all hours of the day, most of the facility was closed down for production days. Four different stations were set up throughout the complex, including on two of the rinks. Locations ranged from an intimate green screen set in a dressing room to darkened rinks featuring smoke and lighting effects with camera operators on skates.
"All the players are here. We are putting them all through the paces for the cool shots you see on the scoreboard, JetsTV and the website. This is a really important day for us," said Kyle Balharry, Senior Director of Game Production & Broadcast Services for True North Sports + Entertainment.
From planning and scheduling to creative and editing, more than 12 people were working behind the scenes on "the carwash", as it's affectionately called within the organization, as early as July. The players' busy itineraries this time of year adds a bit more pressure to the production coordination making planning and execution critical. The weeks of preparation and many hours of set up paid off and the compelling moments you will see this year were captured like clockwork.
"We have to be sharp with our times, plus we have to work with the players' schedules. There was a big crew here at 5:30 a.m., once the players start coming in there's no room for error," said Balharry.
All the production work will only further develop the bond between the community and their NHL idols. In the interviews, players spoke about their lives in Winnipeg, their pastimes, even sharing a few dance moves along the way.
"It really helps everyone get to know the players. Instead of just seeing them on the ice you get to see them up close and personal. They're all super dedicated guys that are passionate about the team and the city, and they want to win," said Balharry.
His goal is for the production team's work to further augment one of the best fan experiences in the NHL. The striking images will appear when goals are scored and during the chill-inducing three-minute video intro at the start of each game.
Balharry mentioned this season is even more special. "Many of us have been here for over a decade. There's always optimism for every season; the team is looking really good this year, so there's even more excitement."
Catch the stunning visuals from production days on winnipegjets.com, Jets social media channels and during the game on the big screen and go behind the scenes with All Access, below.
Story and video by Matt Worobec
‹ Main News