Proof of vaccination continues for hockey at Canada Life Centre
By TN Staff | February 24, 2022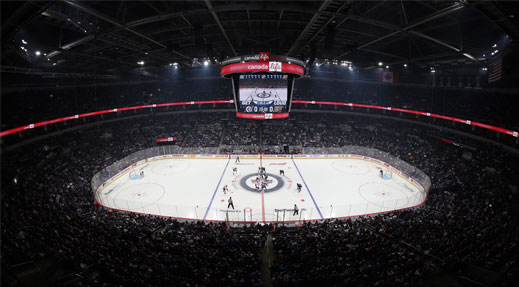 This afternoon, True North sent a letter to full and partial Season Seat Holders outlining its response to changing provincial health orders following the results of a Seat Holder survey. While we understand the rationale for the change in provincial health orders, please be advised that proof of vaccination will continue for Winnipeg Jets and Manitoba Moose games until April 30. On March 15, however, Canada Life Centre will transition to a Mask-Friendly Venue where mask use by guests will be strongly encouraged, but not required. You can read the full letter below.
February 24, 2022
Dear Season Seat Holder,
While most all agree that there have been necessary and appropriate COVID-related restrictions in the past, and we all look forward to the time when we both feel safe and restrictions are no longer required, we are presently in a unique phase of the pandemic, situated between these two points of agreement. For True North Sports + Entertainment, this is especially the case as our two governing principles throughout the pandemic are presently not aligned.
The first principle True North has followed has been to consistently align our organizational Health & Wellness Principles with provincial health orders. As the Province has communicated in recent weeks, public health orders will be changing with proof of vaccination no longer required starting March 1, and mask use transitioning from a requirement to a recommendation on March 15. We understand the rationale behind these changes and respect the challenging environment the Province and our public health officials have and continue to operate in. However, as we consider these changes, we understand that there are varying comfort levels, particularly given the uniqueness of Canada Life Centre, as a large indoor public gathering space with upwards of 15,000 people sitting in close proximity for extended periods of time.
The second principle True North has followed is to seek input from and listen to fan sentiment in order to understand the comfort level of our Seat Holders. To this end, a short survey was initiated yesterday with full and partial Seat Holders. Reviewing the results of more than 3,900 responses, the survey revealed that:\
42% of respondents indicated they would be comfortable or very comfortable with having the proof vaccination requirement lifted on March 1 (in alignment with provincial orders), while 55% of respondents indicated they would be uncomfortable or very uncomfortable (with the remaining 3% communicating that they were unsure).
Of those who indicated they would not be comfortable with the vaccination requirement being lifted on March 1, 90% would prefer that the vaccination requirement remain in place until at least April 30.
Taking into consideration the principles and feedback described above, our understanding that the Province's vaccination verification system will remain available to us in the near-term, and that the vast majority of hockey fans attending games are fully vaccinated and proof of vaccination has been readily accommodated, True North will commit to maintaining the proof of vaccination requirement for hockey (Winnipeg Jets and Manitoba Moose) games at Canada Life Centre until April 30 (provided that there is continued access to the Province's vaccination verification system which is essential to our ability to keep this requirement in place).
With regards to masks, True North thanks fans for their diligent mask use over the course of the season. The strong compliance from the majority of our fans has been greatly appreciated. However, as time has passed, varying compliance has created conflicts amongst fans and between fans and employees. Mask use has become increasingly difficult for our teams to monitor and enforce, and we expect this to only escalate following the lifting of the provincial mandate. Therefore, effective March 15, we declare Canada Life Centre (along with all other True North venues) as a Mask-Friendly Venue where mask use by guests will be strongly encouraged, but not required. It is our hope and expectation that everyone's personal choice will be respected and any harassment and abuse toward fellow guests or staff will not be tolerated.
Please accept our sincere appreciation for your ongoing cooperation and understanding, as well as for your patience as we have taken the time to fully contemplate these changes to our Health & Wellness Principles. Please watch for Canada Life Centre's Health & Wellness Principles to be fully updated soon, and further communication as circumstances change.
John Olfert
President & Chief Operating Officer
True North Sports + Entertainment
‹ Main News