Ray St. Germain excited to continue sharing Métis culture at WASAC Night
By Jason Friesen | April 23, 2021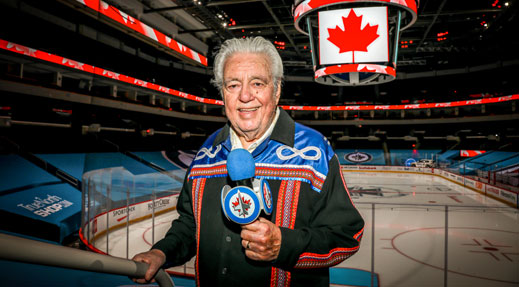 Legendary Winnipegger and Métis singer Ray St. Germain is no stranger to the stage. His music career has taken him across Canada and around the world, but his next performance at home in Winnipeg will stand out as a career highlight for the Canadian Country Music Hall of Famer and Aboriginal Order of Canada Award recipient.
Performing O Canada at the April 24 Winnipeg Jets game to open their WASAC (Winnipeg Aboriginal Sport Achievement Centre) Night that celebrates Indigenous culture in Manitoba will mark the first performance for St. Germain in quite some time thanks to the COVID-19 pandemic. It's the fact that he gets to help celebrate Indigenous culture that has him so excited though.
"I'm so pleased, because I believe in WASAC so much," said St. Germain, who has been involved in WASAC's programs over the years. "To go out there and sing the national anthem – wow! What an honour and a thrill."
The national anthem will be a proud moment for St. Germain, and another step on his journey that has seen him share and promote his Métis and Indigenous culture.
That's not the way his career started though.
"At the age of 18, I won a cross-Canada CBC television contest called Talent Caravan and I sang many songs, but I had never sung anything about the Métis because I didn't really know about that part of my life yet," recalled St. Germain.
St. Germain even remembers a time when he didn't know he was Métis at all.
"I grew up in St. Vital, and my dad and his brothers were in the Armed Forces. I spoke to my dad at one point – I didn't think we were Métis, and I didn't know anything about the Métis. I had taken a picture of my grandfather, developed it, and showed it to my dad and said, 'He sure looks Indigenous'. My dad laughed a bit and said, 'That's because he is'. He told me about all the heartaches and what they went through in the Armed Forces and at home. So, I kept it quiet too and went about my singing."
That was until, while on tour, he read a book about Métis leader Louis Riel. It was a book he couldn't put down, and one that compelled him to write one of his best-known songs, The Métis. That song – a song that earned him an Aboriginal Order of Canada award in 1985 – and its popularity, in turn continued to shape St. Germain's perspective on his culture.
"It changed my show a bit. As I started getting more and more standing ovations at the end of The Métis, I started to think, 'Gee, maybe I should get a little more involved', and so I did."
That led to a career of involvement with Métis and Indigenous organizations, including with WASAC and WASAC co-founder Kevin Chief. St. Germain was invited to many WASAC summer camps to sing and speak to youth, and he remembers the kids always being captivated by his performances.
"To be asked to entertain kids is quite a feat, because they're kids and you have to keep their attention. I would always sing The Métis and tell them about the song. I was always amazed by how they paid attention to it."
From there, St. Germain joined Chief at numerous professional development days for educators in support of WASAC and to promote Indigenous perspectives in the classroom. He continued to expand his reach in the Indigenous community, joining APTN as a voice actor on several shows, and starting the Métis Hour x2 radio show on NCI FM after a discussion with Manitoba Métis Federation President David Chartrand – a still-running show that has been on the air for 23 years. It's clear how proud of his Indigenous heritage St. Germain has become.
That passion for Indigenous culture has started to come full circle. For many years, St. Germain performed on Indigenous Peoples Day, and in his shows, he would have Métis square dancers perform with him. Some of those square dancers are now being leaders in their own right, as some of them have been involved in the process of developing imagery to accompany True North Sports + Entertainment's land acknowledgement read prior to every Winnipeg Jets and Manitoba Moose home game, which will debut on WASAC Night.
"I think it's so wonderful to have the next generation stepping up. At our Indigenous Peoples Day shows, we'd talk about the Métis, I'd sing my song and we'd have Métis square dancers, and all of a sudden people are more understanding of the Métis culture."
Creating more opportunities for Indigenous people to share their culture, especially on a large stage like an NHL game, will only help in relationship building and understanding between cultures.
St. Germain certainly hopes his involvement and rendition of O Canada will spur others on to learn more about Indigenous culture in the same way that he was drawn to learn about his own culture.
"I think WASAC Night is wonderful because people are suddenly asking, 'What is that?' They're curious and they're finding out more and more."
‹ Main News