Rolling Stone Ronnie Wood Pop-Up Gallery coming to True North Square
By TN Staff | June 14, 2022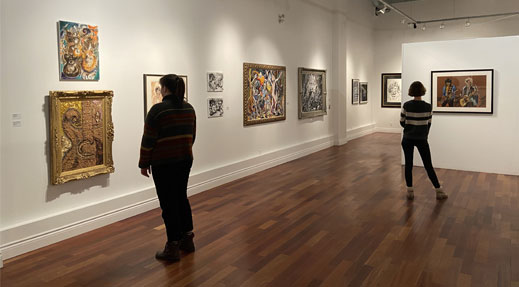 Complementing The Rolling Stones UNZIPPED exhibit, which recently premiered at Expo Live! at Portage Place, will be a pop-up art gallery featuring the works of Rolling Stones guitarist Ronnie Wood, opening June 21 in the lower level of 225 Carlton, True North Square's residential tower.
While Wood may be best known as the Stones' guitarist, he comes from an artistic family and is a formally trained artist (Ealing College of Art in London) who has been painting longer than he has been playing. Wood's work spans a variety of mediums, styles, and artistic influences – including Egon Schiele, Henri Matisse, Vincent van Gogh and Pablo Picasso. Whether the subject is horses, landscapes, text art, portraits, or pop culture icons, including his own Stones bandmates, Wood said the pieces tell the story of his own life and celebrate his musical heroes, the bands he's been a part of, and his love for the natural world.
Winnipeg is just the second Canadian exhibition of Wood's art, which comes directly from Kitchener, Ont.
"It's a very special opportunity to get up close and personal to these well-travelled works of art right here in Winnipeg's own backyard," said David Marskell, CEO of Kitchener's THEMUSEUM which has the Canadian rights for the Ronnie Wood Art Exhibition. "Winnipeggers will get to see another side of Ronnie Wood's artistic talents, and the story of his life, right down to the brushstrokes."
The Ronnie Wood Pop-Up Gallery will feature nearly 50 of Wood's pieces spanning from 1987 to 2021. Highlights include the earliest piece, from 1987, titled Whitney Houston, Grace Jones, and Sade – a portrait using mixed media on paper – a self-portrait from 2021, a portrait of bandmate Keith Richards, also from 2021, and several interpretive portraits of bandmates Mick Jagger, Richards, and Charlie Watts using mixed media. The three-painting series called Guitarscapes has been displayed all over Europe before making its second Canadian stop in Winnipeg. Most of the pieces are for sale, including signed originals, setlist art and limited-edition prints. Posters start at $100 CDN, with limited-edition signed lithographs starting at $3,400 CDN and original works up to 75,000 British Pounds.
Praised by art critics, Wood's pieces have been exhibited around the world and grace the walls of esteemed institutes such as London's Theatre Royal Drury Lane. The Clintons, Rihanna and Andrew Lloyd Webber are among his notable collectors.
"Ronnie Wood is as much an accomplished artist as he is a legendary guitarist," said Kevin Donnelly, Sr. Vice President of Venues & Entertainment with True North Sports + Entertainment. "His artistic talents are legitimate, his collection vast, and each piece, not only impressive, but many of them also serve as pieces of Stones history. This is a rare opportunity to be face to face with his highly valued and sought-after originals."
The pop-up gallery will be open for walk-in and private viewings beginning June 21 throughout the summer. Learn more and inquire about group events at UnzippedWPG.ca/RonnieWood.
The collection comes to Winnipeg in conjunction with The Rolling Stones UNZIPPED exhibit which runs until July 31 at Expo Live! at Portage Place. UNZIPPED features more than $40 million of original Stones artifacts and memorabilia, including art, costumes, instruments and collectibles, as well as immersive musical experiences and two authentic set recreations. UNZIPPED runs Tuesday through Sunday with extended weekend hours and also features the Voodoo Lounge, a licensed area to enjoy light snacks and beverages before or after touring the exhibit. Tickets for UNZIPPED are on sale now at UnzippedWPG.ca.
‹ Main News